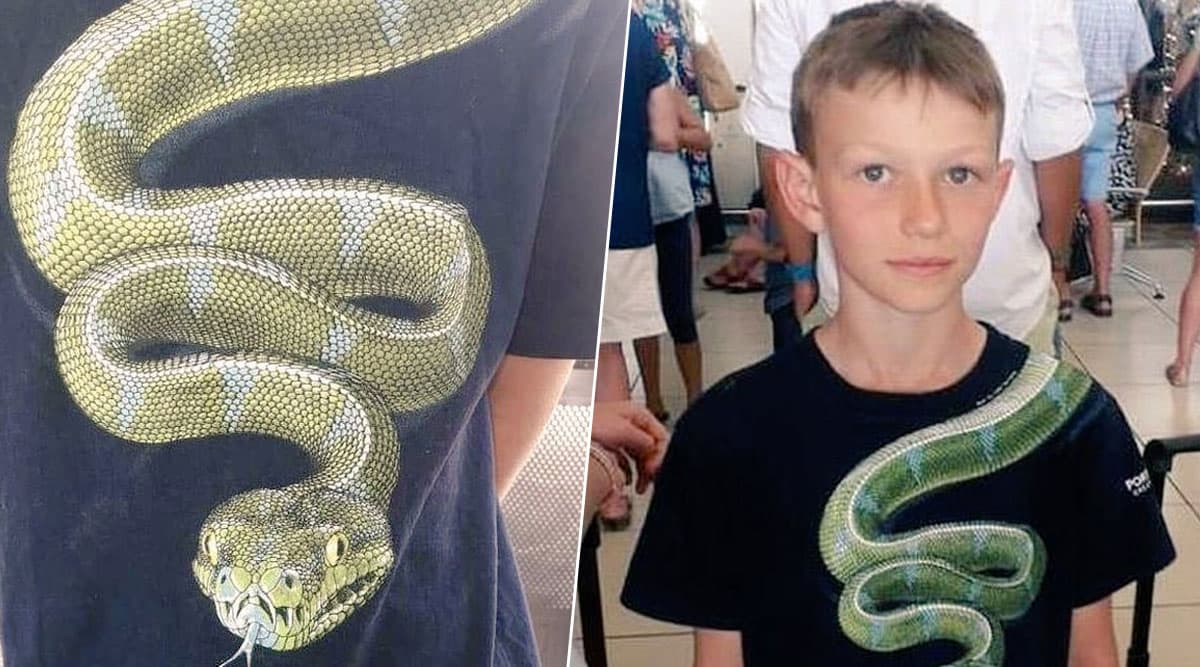 Who would want any kind of a reptile on their flight? No one right? And so the security officials at New Zealand airport ensured they follow the rules to the tee, quite literally! A 10-year-old boy from Wellington was supposed to board a flight to South Africa, but a printed snake on his t-shirt was not acceptable. The authorities made him take it off and wear an another one for security measures. The incident took place on December 17 at the security gate at O.R. Thambo Airport. Scottish Woman Travels With Python From Australia to Scotland, Realises Only After Reaching Home.
According to the reports, Stevie Lucas was accompanied by his parents and they were going on a holiday to visit his grandparents in George, the Western Cape province of South Africa. Stevie wore a black shirt which had a green snake print, curling over from his shoulder to the front. The security officers were however, not impressed with the print and said it could cause an anxiety to other passengers on the flight.
Here's The Snake Print T-shirt Which The Boy Had to Change:
A Boy, 10, is forced to take his shirt off before boarding a flight from #NewZealand to #SouthAfrica because it had a picture of a reptile on it ✈️😬 pic.twitter.com/T0O6DqfBDo

— aviation-fails (@aviation07fails) December 26, 2019
Airport spokesperson, Betty Maloka, told Netwerk24 that the T-shirt was part of a set of prohibited items by International Civil Aviation Organisation, which also included other objects like snake toys. Stevie's mum was informed about the rules, who then asked him to wear the t-shirt inside out. The security footage also confirmed that he wore the t-shirt inside out. Stevie informed in the local reports that he loved reptiles.
Just this week, there were reports of a python falling on the tarmac from a flight at New Zealand airport.  A flight from Brisbane to New Zealand accidentally carried a python snake in its undercarriage. The snake was rescued after a pilot reported a presence of foreign object on the runway.