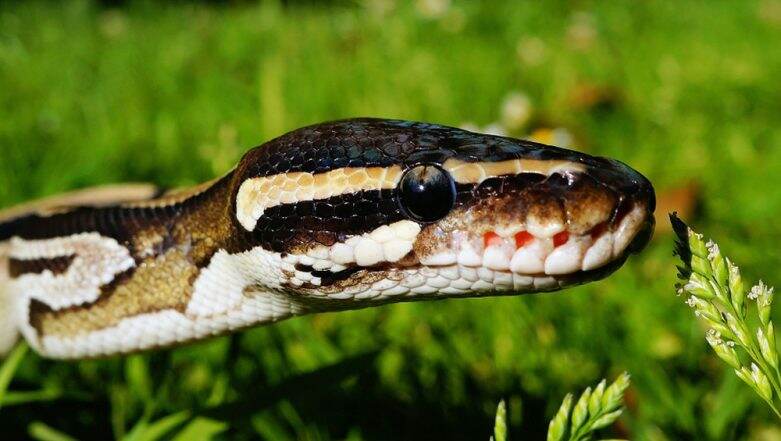 Most people who go on a holiday, get along a souvenir as a memory of the place. A woman who returned to Australia from Scotland was shocked to find her souvenir was hiding a present for her. One of her shoes in her suitcase was carrying a python! Moira Boxall found that one of her shoes had snakeskin. She thought her son-in-law and his wife who she had visited must have played a prank on her with a toy snake. But she was shell-shocked when she saw it was a real python hiding within her shoe! Covering over 15,000 kms from Mackay to Glasgow, the snake managed to sneak in well in the shoe without anyone noticing. Python on a Plane! Man in Miami Tried to Sneak the Snake in Computer Hard Drive.
Moira Boxall was on a trip to visit her family in Scotland. While she was staying at their house in Queensland, she felt she had seen a snake in the house. She had woken them up at 3 am because she was something slithering in the room. When they searched they did not find anything. Paul Airlie, Boxall's son-in-law was quoted to ABC, "She absolutely lost it – it was her first real encounter with a snake." But indeed there was a snake which had managed to sneak in Boxall's shoe. During her stay, the family had downplayed spotting snakes because it was such a common thing to see in Queensland.
Watch Video of the Python Who Was Hiding in Woman's Shoe Who Travelled From Australia to Scotland
The son-in-law and his wife Sarah had helped Boxall to pack her suitcase. He was quoted, "She just picked the shoe up and stuck it in the bag and then it was there. She was not at all expecting to find the snake when she was unpacking a bag when she got back to Scotland. We searched the room and there was no snake. However, it turns out there was a snake, as it had gone and hidden in her shoe." The snake had managed to travel over 15,000 km being in her luggage throughout the journey. Live Snake in Pants! Man Caught Smuggling 16-inch Boa at Berlin Airport.
On finding the snake, she put the shoe out in the garden and covered it with a box. The Scottish RSPCA came and rescued it and it is now in quarantine. Ms Boxall is not so keen about visiting her family back in Australia again and although it was a non-venomous python we can only imagine the fear and shock it must have left the woman with.