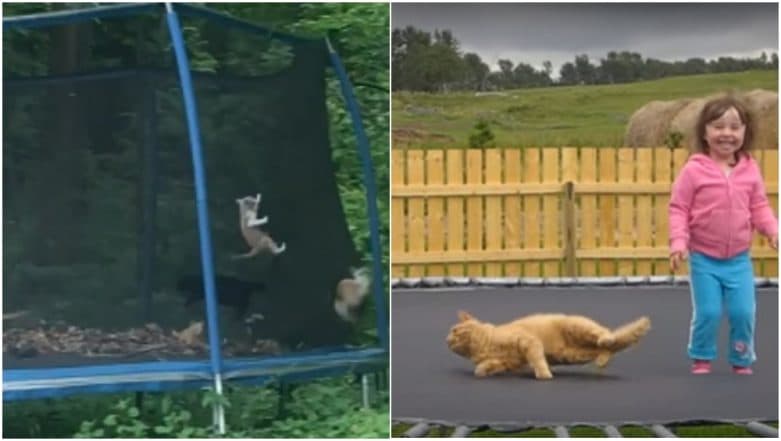 If you love cats then watching at cute cat videos get to turn a bad day around, right? The internet is filled with so many silly, funny and cute cat videos. And it is just a few hours for enjoying the weekend and day offs. We give you something better to join in the Friday feels. How about cats jumping on trampolines? A video has been going viral which shows a group of cats racing and jumping on the trampoline in a garden in Ontario. It is indeed funny to see the felines jumping around, running through the leaves and playing on the surrounding net. The video which came up on Twitter is going crazy viral. So we give you a compilation of cats jumping around and playing on trampolines. Watch These Funny Cat Videos and Super Cute Kitten Pictures to Bring a Big Smile On Your Face.
Five felines on the property of Brandon Hall managed to climb on the net of the trampoline and thoroughly enjoyed the jumping session. Mr Hall also seems amused by the felines having fun. The video has gone viral since last week with over 7 million views. Hall's son also posted that the cats were not tortured or purposely put up there, but when his family returned, they found them playing inside the netted game. Cat Catches Partner Cheating With Other Feline and Its Reaction Is Straight Out of an Indian Daily Soap! Watch Viral Funny Video.
Watch Viral Video of Cats Jumping on Trampoline:
Somehow all of the neighborhood cats managed to get into our trampoline... pic.twitter.com/rRAjgCuuAr

— Bailey (@baileyhall2424) July 6, 2019
It is so funny to see the usually lazing around cats, just losing their calm and scurrying on the area, jumping on the nets around.
Cat Stuck in Trampoline:
This poor kitty did not seem to be having a good time as she figured her way to get out of this.
Girl and Cat Both Enjoy Trampoline Jumping:
This kitty seems to be loving the trampoline vibrations as the little one jumps around. Well, later it does seem like she is not really impressed with the continuous bouncing. But it is funny nevertheless.
We hope the above videos give you the Friday feels. How about hitting the trampolines right after? Hope you have a fun Friday!