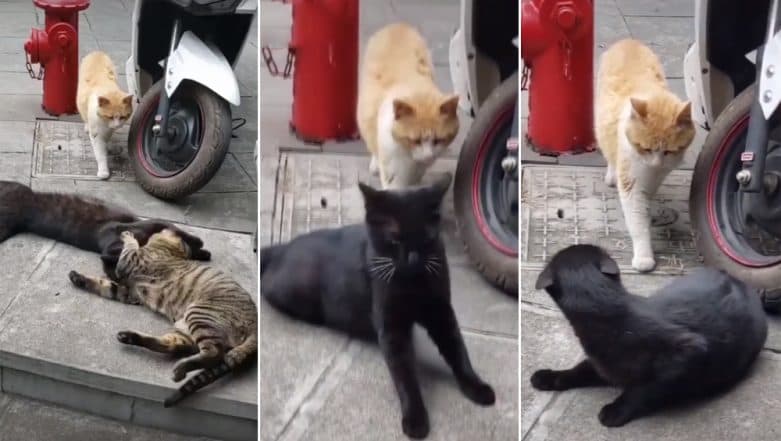 Have you ever been in an unfortunate situation of catching your partner cheating on you? Or vice-versa? The scene is not just awkward but you know a fight is going to follow after. While many people may have been in this situation at some point, the exact same scenario was caught on camera between a cat couple! And the cat who caught her partner cheating with another feline was not pleased. The entire scene was captured on video and is going viral on all social mediums. Fat Cat Pretending to be Dead on Treadmill to Avoid Exercising is Our Spirit Animal! Watch Hilarious Viral Video.
The video is from China and show two cats, a black and a grey cozying up to each other on the street. Their romance is broken when a third while and golden coloured cat arrives and definitely doesn't look pleased. While the other grey cat of the pair runs away, the 'supposed' partner looks too scared to see the white cat behind it. While the black cat sprints away the white feline chases after. The video may be a serious situation for the cats, but for all the humans it is hilarious. Pet Cat's Reaction on Woman Teaching Her Dog to Swim Has Left the Internet in Splits! (Watch Funny Video).
Watch the Video of a Cat Catching Her Partner Cheating:
This video has sparked amazing reactions on all social media platforms. It is indeed funny right? We can only assume what happened to the black cat later. While we look at this cat being caught cheating, there was another video which went viral a few days ago, which showed the lovely affection shared between a cat and a dog. The two almost looked inseparable and Twitter was in love with this unusual friendship. And in this case, people are laughing at the cheater being exposed! Well, it is an amusing video indeed.