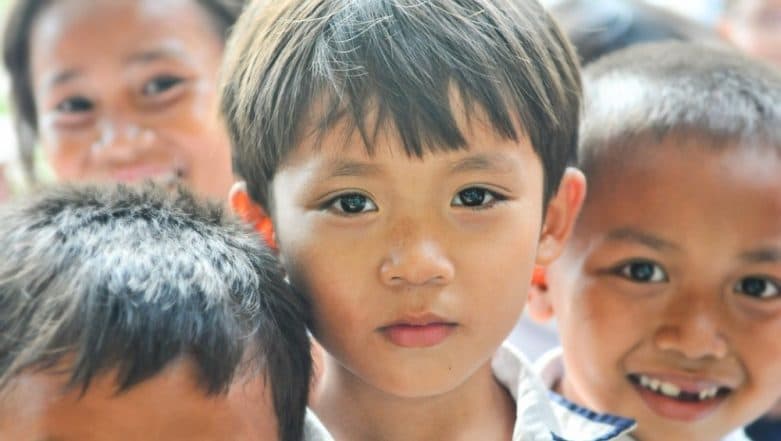 The friendship of two young best friends from China has moved the internet to tears. A 12-year-old boy from China called Zhang Ze is disabled but that never stopped him from going to school. His friend Xu Bingyang has been carrying him to school since the past six years. Their friendship went viral on the internet after Chinese news outlets reported it.
Xu told Chinese reporters that he is quite glad to carry his friend and be his 'Walking Stick'. Xu says that as he is over 40 kg, it is not quite difficult to carry his friend Zhang who is just 25 kg. Both the boys are sixth-graders at Hebazi Town Central Primary School in Qingshen County. Talking about his friend, Daily Mail quoted Zhang as saying, "Xu Bingyang is my best friend. Every day, he studies with me, chats with me and plays with me. (I) thank him for looking after me like this every day." Twitter Helps Long-Lost Childhood Friends Meet, Sets Up Go Fund Me Page for Their Meet.
Check out their pictures below:
@Gidi_Traffic Awww! Best friends forever: A young boy in China, Xu Bingyang, 12, has carried his disabled friend, Zhang Ze since grade one come rain or shine

Xu also helps Zhang to fetch lunch and move between classrooms to attend different lessons pic.twitter.com/DH74CDIpSs

— AustynZOGS (@Austynzogs) April 1, 2019
At the age of four, Zhang was diagnosed with a rare muscle condition known as the ragdoll disease. Ca Called myasthenia gravis, Zhang cannot even walk on his own. While their friendship is an inspiration to people, carrying a person around is time-consuming. While Xu mostly carries him when they have to go from one place to another, at other items he gently holds him by his hand and slowly moves together. On stairs, Xu has to carry him on his back.
A teacher told Sichuan Online, "For so many years, (Xu) has continued doing good deeds and never complained in front of the teachers and classmates." Xu's mother learnt about her son's kind gesture recently from other pupils of his class. She said that her son is shy and never talked about it at home.