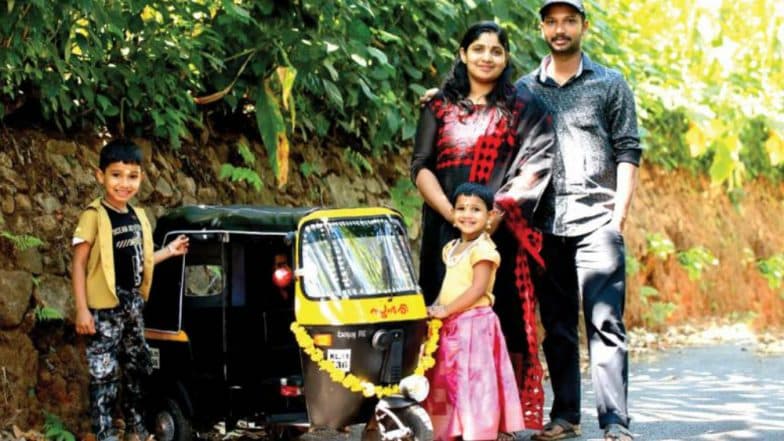 Parents can go to any extent to make their kids happy. They strive to make kid's lives better before they come to this world and continue to do that till their last breath. Arun Kumar Purushothaman, a man from Kerala, has built a mini auto rickshaw for his two kids so that his kids can play with it. He made for his son, Madhav Krishna who had insisted that he made one after he saw the 1990 Indian Malayalam romantic-musical film, Aye Auto. The short video featuring mini auto rickshaw that is now driven by his five-year-old boy and his sister Keshini has touched the netizen's hearts and is now everywhere on the internet. Boo, World's Cutest Dog Dies at 12 After Mourning the Death of His Canine Companion 'Buddy'! Social Media Grieves. 
Malayalis are in love with the 1990 film, Aye Auto, especially with the two Sundaris—the autorickshaw and the song. People who have watched the movie can never forget the iconic scenes that it offered. Idukki resident, Arun made the mini version of Sundari auto rickshaw and the video surfacing on the internet also has the evergreen 'Sundari Sundari' song playing in the background. In the video, Arun explains how he handcrafted the cutest piece for his kids and social media is in love with his skill. ISRO Young Scientist Programme: Kids Will Learn How to Build Small Satellites. 
Watch Video of Cute Mini Auto Rickshaw
Arun was always interested in making toy cars. He was quoted in a Deccan Chronicle report, "When I was young, I was very excited about vehicles and always wanted to have toys like that. But my family could not afford it. My father, who was a carpenter, overhauled a second-hand bicycle with wooden wheels for me. After that, using my father's tools, I crafted several small toys, especially vehicles. When I was in class 10, I won the first prize in a state-level competition for making the working model of a JCB. So, that's how it all started."
As he got engrossed in higher studies, his hobby took a backseat. Later, he moved to Puducherry where he was appointed as a nursing officer at the coveted Jawaharlal Institute of Postgraduate Medical Education and Research (JIPMER). He crafted the model of an SUV for his son and a three-wheeler bike for his daughter too. His skill to build toy cars never stopped. It took him seven months to construct the autorickshaw for his son. The process to give the vehicle an excellent touch cost him around Rs. 15,000. Arun now lives in Kattappana, Kereka and he has been getting enquiries for the autorickshaw. But he has no plans to sell the cute toy which is meant for his kids.