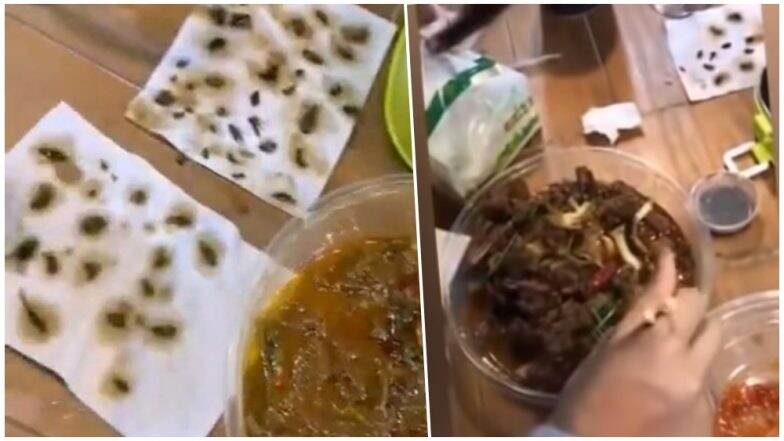 A woman in China had such a horrifying experience at a takeaway meal that will drive your hunger away. A resident of Shantou City in Southern China ordered a duck dish for dinner through an online food delivery platform. But the well-planned dinner with her friends turned into the worst nightmare when they found 40 dead cockroaches in the takeaway meal! When one of her friends found a dead cockroach, they decided to look into the dish more carefully and we horrified with more 40 dead insects coming up from the dish. Cockroach Found in Food Served to Air India Passenger, Pictures Go Viral.
The dead insects were unnoticed initially because of the colour of the dish. The group literally picked on these cockroaches with the help of chopsticks and laid them out on a tissue paper. The group of friends made a video of the horrifying dining experience and it has been shared online. The woman did complain to the restaurant and also filed a case with the police. The investigations are on currently by the officials at the local Food and Drug Administration. Zomato Executive Adds a Roasted Fly on Biryani Order in Delhi, After Woman Complains Against It.
Watch Video of 40 Dead Cockroaches Found in Takeaway Meal
The video is really gross! The concerned restaurant is said to have issued an apology to the woman. They have also been shut for business for the next 15 days as the investigations are being carried out. It is still not clear if the ordered dish was freshly prepared or was just reheated and given out for delivery.
Such incidences really bring up the question of safety regarding online food delivery. A few months ago, a man from Delhi found a cockroach in his Zomato delivery. He complained to the customer care service who did not understand the seriousness of the issue. Zomato faced flak on the internet for the same.