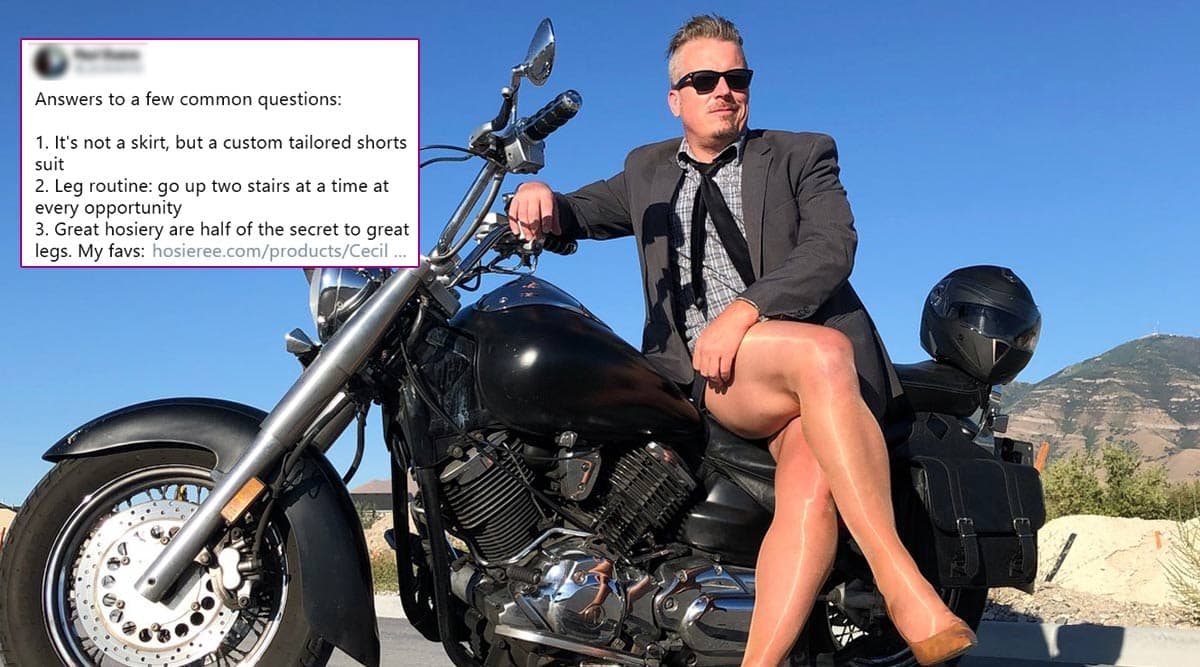 Cross-dressing is not a modern phenomenon, if any of you are still under that impression. It has always been there. And you need a lot of courage to put yourself out from your "comfort." A podcast host, identified as Paul Duane, was walking to a luggage carousel at the Fort Lauderdale-Hollywood International Airport, Florida. Someone took a video of him and posted on TikTok. The footage reportedly received more than 6 million views. What was so captivating? It was the kind of outfit, Duane chose to walk out. He was wearing a grey suit, a pantyhose and a pair of brown heels. But Duane is surely not someone who would be silent on trolls. He took to Twitter, to offer insight as to who he was and the decision behind wearing the fashion statement. Good for all of us, Duane's savage respond is loved by the people online as his tweet has gone viral. A 12-Year-Old Thailand Boy Has Gained Instagram Success by Posing as a Girl. 
Daily Mail first reported about the incident. The clip was initially posted on TikTok by user @miguelrm15, the British tabloid identified. A Twitter user, Gretchen Smith, took to the social media platform, captioning the video as "Okay what am I look at. Men! What is this called?!" At the time of writing this, the video received more than 6.5 million views on Twitter alone.
Watch the Viral Video:
Okay what am I looking at🤔

Men! What is this called?!

— Gretchen Smith (@cov_Gretchen) December 23, 2019
While her intention is not exceptionally clarified, people on Twitter, chose to stand with Duane. One of the commenters notably wrote, "A man in heels, get over it and worry about your own life?" However, there were a few who shared derogatory comments towards Duane and stereotyped that he had to be a "gay man." But like we mentioned, Duane is not someone who would let it go, silently.
Duane took to his own Twitter to offer insight to as to who he was and why he chose the outfit and make a fashion statement. While some speculated that he was wearing a skirt, Duane explained that he was wearing a "custom-tailored short suit."
Take Fashion Cues From Duane!
Answers to a few common questions:

1. It's not a skirt, but a custom tailored shorts suit

2. Leg routine: go up two stairs at a time at every opportunity

3. Great hosiery are half of the secret to great legs. My favs: https://t.co/CBJHeB05gU#menintights #pantyhose #heels pic.twitter.com/to8FFmdT7m

— Paul Duane (@_soulanarchist) December 26, 2019
Instead of questioning or even making fun, we should rather be taking some fashion notes from Duane. He looks absolutely stunning! The same report also noted that Duane identifies himself as a heterosexual. But his tips for those sharp legs, is what worth noticing. In follow up tweets, he also explained that the footage is two weeks older but managed to make its round on the social media platforms, very recently. Honestly, we are glad that the video appeared. Such impeccable fashion sense, is a rare sighting!