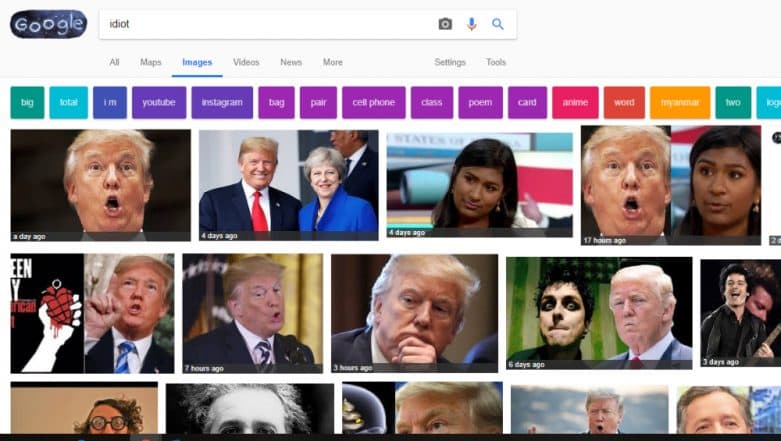 Critics of US President Donald Trump can go out all ways to prove their point. So if you happen to type the word 'idiot' in Google image search, you will see pictures of Trump popping up giving various expressions. The US President may have called his IQ as 'one of the highest,' the search results are totally contradictory. Well, these search results are due to the social media campaign to make the Green Day band's song 'American Idiot' a top charts in the United Kingdom, ahead of Trump's visit to England.
Donald Trump is being highly criticised on social media for his behaviour at the Windsor Castle. Trump's visit to the UK saw thousands of people protesting on the streets in various parts of the country. Throughout his four day visit, there were protests in the country with a giant balloon of Trump baby too taking a flight to mark his controversial visit. People gathered in huge numbers to see the release of the balloon into the air.
Meanwhile, a campaign was running on social media to push the 'American Idiot' song at the top of the charts and it surprisingly worked too. The song which was apparently about America's former president George W. Bush, became the No. 1 on Amazon UK's bestseller list. The song was 18th on the Britain's Official Singles Chart list. So the protestors did actually go out and buy or download the Green Day track. There was a group on social media site Facebook named, 'Get American Idiot to No. 1 for Trump's UK Visit' which asked each one to contribute to making the song regain a top position in time of Trump's visit to the UK.
Check the track 'American Idiot' making it in Top 10 iTunes as well:
We've crept up into the iTunes Top 10 (AND another version at #17 too!) and still at #1 on Amazon! Keep sharing to others what we are all doing! #MAIGA pic.twitter.com/4wuuElNwrC

— American Idiot For UK No.1 When Trump Visits (@TrumpIdiotNo1) July 7, 2018
Trump is currently also under fire for meeting with Russian counterpart Vladimir Putin in Finland. But the campaign to make the song up the charts has resulted in the 'idiot' being tagged with Donald Trump. So whenever you type in the word, the image results show Trump's shocked expressions. In fact, there are rows of his photos in the images sporting different expressions, which is also why he is talked about.