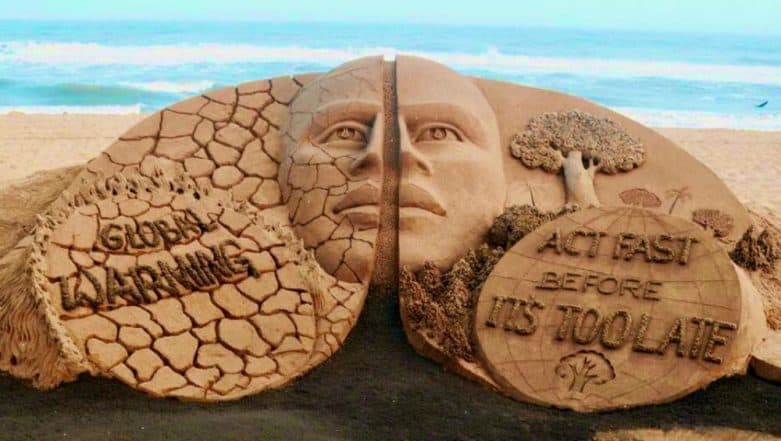 An annual and significant event celebrated on April 22, Earth Day is a global observation reminding people of the importance to opt for a healthy lifestyle for the sustainability of the planet. Our Earth remains human's only home and the only planet we know capable of supporting human beings. Millions of people gather to uplift the awareness of environmental issues and help protect the earth. The theme of Earth Day 2019 is to "Protect Our Species" and rightly showcasing the increasing need, the popular sand artist of India, Sudarsan Pattnaik created a beautiful depiction. Stressing on two of the major concerns—Global Warming and Deforestation, Pattnaik made a striking Earth Day 2019 sand art, urging people to "act before it's too late." Sudarsan Pattnaik Creates Sand Art As Tribute to the Victims of Easter Sunday Bombing. 
The birth of the modern environmental movement began in 1970, when a small vocal group of scientists and environmentalists became increasingly concerned that pesticides, sewage and industrial pollutants were poisoning the air and water, threatening the planet. Ever since then, each year on April 22, individuals from all the backgrounds participate at the global events and activities, sharing their thoughts on how to protect nature. Because of human's daily activities, our planet has been affected majorly. Focussing on the significant issues, Pattnaik's sand art is a perfect portrayal of the urgent need to stop the cruel activities and sustain the environment. Earth Day 2019 Images & HD Wallpapers for Free Download Online. 
View Pattnaik's Earth Day Sand Art
#EarthDay  lets act before its too late....🙏 pic.twitter.com/S5VCDAfMPz

— Sudarsan Pattnaik (@sudarsansand) April 22, 2019
Earth Day 2019 Theme: History and Significance of the Day for Ecological Awareness
Earth Day 2019 Greetings, WhatsApp Pics & Quotes
Despite the significant progress that has been made since the first Earth Day, environmentalists point out that there is still much more that needs to be done to protect and preserve the planet. The fight for a clean environment continues. We invite all our readers to be a part of Earth Day 2019 and help write many more chapters of struggles and victories into the Earth Day book.