Solapur, August 14: A video going viral on the internet shows a bridge collapsing due to incessent rainfall and flood situation. The uploaders have claimed that the bridge seen collapsing in the floods is the one which connects Maharashtra's Solapur to Karnataka's Bijapur. Here's a fact-check of their claim.
Those who have uploaded the video have claimed that the Takali bridge collapse was triggered by the overflowing of Bhima river on Maharashtra-Karnataka border. However, authorities on the ground have not issued any such statement. Though 29 bridges have been washed in Maharashtra due to the ongoing flood situation in the state, the Bijapur-Solapur bridge is not among them. Bhayandar Old Bridge Collapse News is Fake, Video Going Viral is From Bihar
Here is the Fake News Video Shared on YouTube:
On further verifying the video content, it has been found that the clip dates back to 2017, when a bridge was washed away in Bihar's Katihar due to floods.
The original clip, embedded below, was shared by leading English daily Times of India on August 15, 2017. Notably, dozens of buildings and bridges were washed away in the natural calamity that year, which had claimed 547 lives across the state.
Watch Video:
The recent round of floods has wreaked havoc in southern states over the last fortnight period, with 91 deaths being reported in Kerala so far. In Maharashtra, over 40 fatalities have been incurred, whereas, the toll has jumped to 32 in Karnataka.
Fact check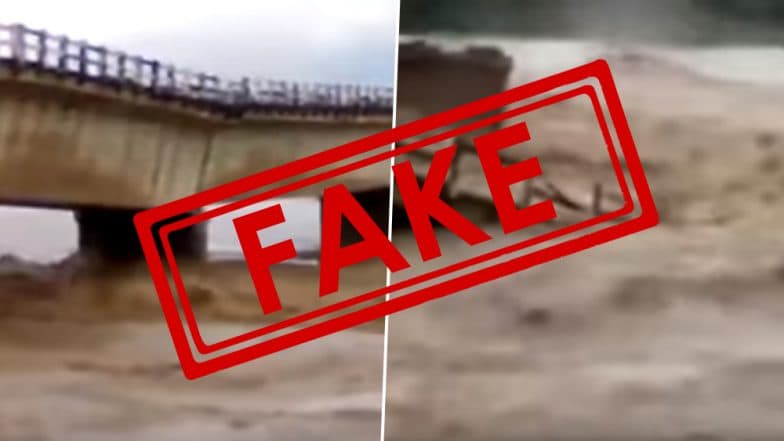 Claim
The Solapur-Bijapur bridge has collapsed due to overflowing of Bhima river.
Conclusion
False. The video going viral is of 2017, when a bridge was washed away in Bihar's Katihar.