Mumbai, October 25: Diwali is around the corner and social media is filled with forwards and messages promising to spread happiness on this festive season. One such message which is being widely circulated on WhatsApp groups is -Cadbury is giving away 1500 Free baskets of Cadbury Chocolate to celebrate Diwali'. The website claims that the brand is giving away free chocolate baskets to celebrate the 195th anniversary. The offer claims to be ending on October 25.
We did a fact check and found that the website link is fake and Cadbury is not giving away any free chocolate baskets on the occasion of Diwali or on their anniversary. Cadbury is part of the Mondelez group and any information about the company is put up on their official site and not on some site titled 'Cadbury-Basket.com. Fact Check: Tata Salt Viral Video Being Circulated Online Claims Packaging Done Under Unhygienic Conditions is FAKE!
The fake website link is asking the users to fill in their details. Please be careful not to fall prey to any such fake message, don't open the link and feed any relevant information. This is not the first time that such fake news is being circulated in the name of Cadbury. In 2018, Cadbury was accused of spreading HIV. There have been several cases of hoax messages being forwarded on social media promising freebies.
Last year, a scam message got widely circulated online which said 'Jet Airways is giving 2 free tickets to everyone to celebrate their 25th Anniversary'. Keeping in mind, the rise in the online frauds that take place every day, people are advised to stay alert and not blindly believe in any information which they see or read online!
Fact check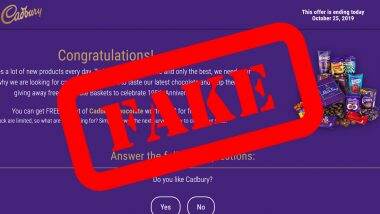 Claim :
Cadbury claims to be 'Giving away 1500 Free baskets of Cadbury Chocolate to celebrate Diwali'.
Conclusion :
The link is fake and Cadbury is not running such promotions. Please don't fall prey to this fake message.
(The above story first appeared on LatestLY on Oct 25, 2019 02:12 PM IST. For more news and updates on politics, world, sports, entertainment and lifestyle, log on to our website latestly.com).