Social media users have been sharing a video of foreigners dancing on the popular Bhojpuri song Lollypop Lagelu. While the song is popular within India, the video which shows some foreigners grooving to the same, is being shared as celebrations from the ICC World Cup 2019 in London. The video is widely being shared online on all mediums with the same caption stating celebrations in London after the India and England match. However, the video is doctored. The video of foreigners grooving is actually from a street festival called Carnival of Cultures or Karneval der Kulturen which takes place in Berlin. This festival took place over the weekend and videos from there were shared online on Twitter. Fact Check: Did American Cartoonist Ben Garrison Create the Cartoon Disparaging BJP and Congress?
The festival of Karneval der Kulturen celebrates the local cultures of all the ethnicities that stay in Berlin. It is an annual festival which celebrates the multicultural diversity of Germany. This year it was held from June 7- June 10. Videos from the same were shared on Twitter and show people dressed in different traditional attires, dancing to various songs from their respective culture. One of the videos also has a group of Indians performing the traditional dance of Garba. Many performances were held here and one of them has a group of foreigners dancing to the beats played by the DJ. Also on close observation we can see in the same video that the placard does read 'Berlin.' So the video which is being shared online is false. Fake News Alert! Video of Remote Controlled Turbine Jet Shared as 'Rafale Jet' Footage Online.
Check the Real Videos of the Dances From Cultural Street Carnival of Berlin:
Beautiful #India! 🇮🇳

You guys were amazing!#KarnevalDerKulturen pic.twitter.com/PaQEFrgcNn

— Hugo di Portogallo (@HdiPortogallo) June 10, 2019
It is the same stage and background which shows the Indian flag in the background and the people dancing ahead. The foreigners were also dancing here and very clearly the song would also have been different. So it is not from London and definitely not the 'Lollypop Lagelu' song that playing here. Before sharing anything one should always check the authenticity of the videos. So if you still get it over WhatsApp with the same caption of celebrations in England, make sure you pass on the real news.
Fact check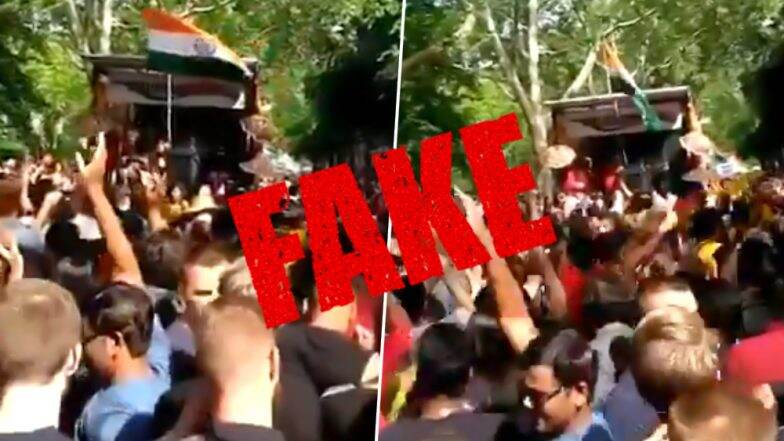 Claim
Video of Foreigners dancing in London on Bhojpuri song Lollypop Lagelu is from celebrations during ICC World Cup 2019.
Conclusion
The video is actually from a street carnival festival called Karneval der Kulturen in Berlin.