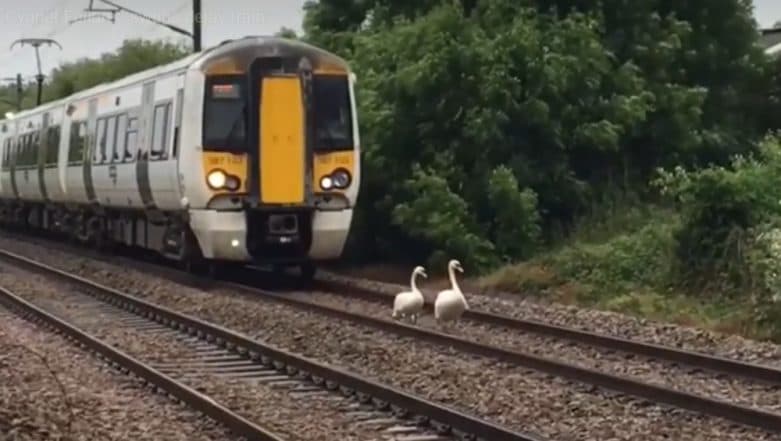 This is a viral moment, when a Swan family has been captured, taking a walk on a railway track. Two adults and two cygnets were waddling along in line, when a train came behind the family near a level, reportedly crossing at Stowbridge in Norfolk, UK. But they completely perturbed and rather forced the train to slow to a snail's speed.  The bevy of swans held up a train for 30 minutes, by refusing to budge from the track. And this adorable family time has been captured by witnesses, who shared them on social media, and soon the clip went viral. 21 Swans Walk into the Avon River Announcing the Arrival of Spring Season. 
Media reports noted that the train travelling between Downham Market and Watlington, was delayed by half an hour. In the video, you can see the swans stood tall, while they faced off, as people try to shoo them away. Without giving any damn, they completed their walk as they swans chased back to the nearby River Great Ouse. The Faithful Bird Travels 13K km Every Year To Meet His Mate. 
Watch Video: Family of Swans Waddling on Railway Track
The crowd were trying to shoo the birds off the tracks. After half an hour, they were rescued by Royal Society for the Prevention of Cruelty to Animals (RSPCA). This is not the first time, when swans have delayed trains, while taking their leisure walk. Last year, a video from London was doing round on the internet when hundreds of commuters were late as the train was forced to crawl behind a stubborn swan, waddling along the tracks for two miles.