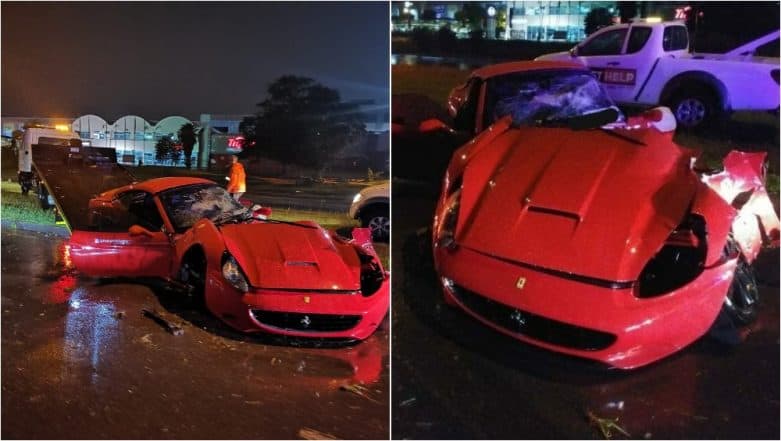 A red Ferrari California got ripped apart in Johannesburg after the driver rammed into a large steel lamp post. The crash took place on Saturday at William Nicol Drive near the Witkoppen Road Bridge said, said, Netcare 911 spokesman Shawn Herbst. The owner was accompanied by a female companion at the time of the incident. Fortunately, both only suffered minor injuries and medication was given on spot. They were later shifted to a hospital in a private ambulance service.
According to reports, the driver lost control as the road was slippery and rammed into the post. The car broke into two pieces leaving the expensive car in an unretrievable condition. Herbst was quoted as saying, "Reports from the scene indicate that the driver of a Ferrari lost control in wet weather crashing into a light pole coming to rest back in the road. The driver escaped injury whilst the female passenger sustained moderate injuries." Brand New Rs 4.5 Crore Worth Ferrari Destroyed in Seconds As Woman Loses Control, Watch Video
Here are pictures of the accident:
A Ferrari California has been completely totaled after crashing on William Nicol drive C/O Lonehill Boulevard.

On arrival the emergency services found that the passenger sustained moderate injuries while the driver was unharmed.

Cause of the accident is unknown... pic.twitter.com/JoQ0I37YfE

— Zero2Turbo.com (@Zero2Turbo) February 23, 2019
The car seems to be a previous-generation Ferrari California, which was first launched in 2009. It was the first V8 Ferrari road car to feature a front-mid-mounted engine. The car which has a 4.3-litre motor produces 338kW and 485Nm. It can go from 0-100km/h in just four seconds and reach a top speed of 310km/h. As pictures of the completely dismantled car went viral, people commented saying that it can never be repaired. There have been several incidents of Ferraris worth crores of rupees crashing on the road after the driver loses control.