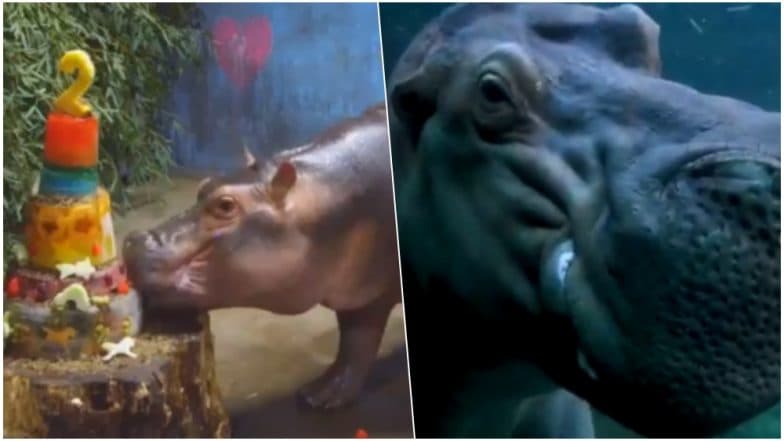 Fiona, the hippo from Cincinnati Zoo in the US had made headlines when she was a premature baby. She almost did not make it but the now she is a healthy baby who just turned two. Fiona is a star of the zoo and also a sensation on the internet. Born on January 24, 2017 she celebrated her 2nd birthday and got a very sweet surprise from another hippo! A birthday song wish from Timothy, a hippo from San Antonio Zoo was posted online and people couldn't stop awwing at this romantic gesture. Timothy is said to be a crush of Fiona and the shower of love between the two hippos displayed online has melted several hearts. Rare & Endangered Pygmy Hippopotamus Born in Toronto Zoo (Watch Video).
Meanwhile, Fiona's own birthday celebration at her zoo wasn't less than special. She got a layer cake for her and she was totally enjoying all the extra attention and care. Timothy's video had him make the typical hippo grunt, followed by a band playing the 'happy birthday' song tune and in the end, they all pose for a picture. It was indeed a cute gesture and the video was bound to go viral. Several twitter users were charmed at his lovely gesture for Fiona.
Check Timothy Hippo's Birthday Wish For Fiona 
Dear Fiona @CincinnatiZoo,

Happy Birthday to you,

Happy BIrthday to you,

You look like a gorgeous hippo,

You smell like one too!

Anyhoo, I hope you like my video present to you mi amor!

Sincerely,

-Timothy @SanAntonioZoo #HippoSwipeRight #TeamFiona #SAZoo pic.twitter.com/njo3yuKnjV

— Timothy The Hippo (@TimothyTheHippo) January 24, 2019
Isn't it cute? Twitterati was pouring in hearts and praises for Timothy and said Fiona will definitely be impressed. Some commented that 'Timothy had just set a bar', some called it the 'most thoughtful gift ever.' The Cincinnati zoo also posted a video about their celebrations for Fiona's birthday.
Check How Cincinnati Zoo Celebrated Fiona, The Hippo's Birthday
Watch as Fiona celebrates her 2nd birthday with her care team! #teamfiona 🦛🎉🎂 pic.twitter.com/oPkZxOifaY

— Cincinnati Zoo (@CincinnatiZoo) January 24, 2019
Fiona clearly enjoyed her four-tier fruit birthday cake. The zoo also posted throwback pictures of the little one when she was growing up. From weighing just about 29 pounds as a premature baby, she has now grown like the other hippos and weighs about 1000 pounds. Fiona's birthday would have got extra special with Timothy sending in the cutest birthday wishes.