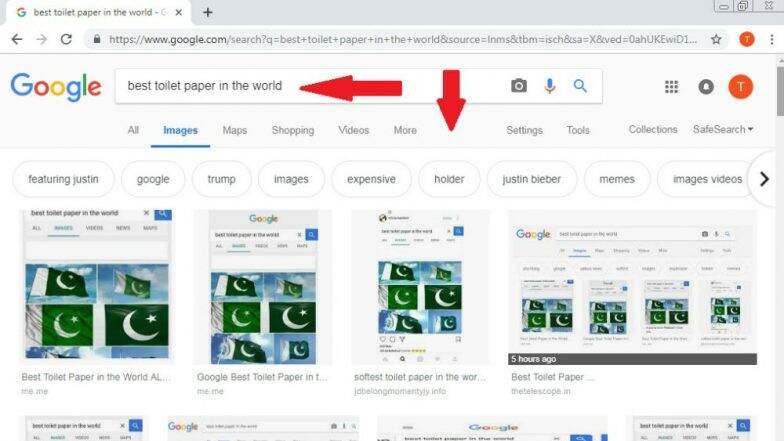 Mumbai, February 16: Pakistan, which has been facing flak by countries across the world after a deadly attack on India's security forces in Jammu and Kashmir's Pulwama, has another reason to feel embarrassed thanks to the search engine giant Google. Netizens on Saturday noticed that images of Pakistan's national flag emerge when one types 'best toilet paper in the world' in Google search. So if you type 'best toilet paper in the world' in Google search and go to the image section, you will find pictures of Pakistan's flag as top results.
Netizens were quick to notice this insulting results for Pakistan on Google and shared screenshots of the Google image result on Twitter with hashtag #besttoiletpaperintheworld. Pictures shared by Twitterati show that when they searched for 'best toilet paper in the world' on Google, the search engine showed images of Pakistan's national flag. Incidentally, this came two days after an attack on a CRPF convoy by Pakistan-based Jaish-e-Mohammed in which 40 jawans were martyred.
Below are some screenshots taken by Twitterati:
Search #Besttoiletpaperintheworld#PulwamaAttack #IndiaWantsRevenge #PulwamaRevenge #PulwamaTerrorAttack #Pakistanmurdabad pic.twitter.com/TkrKk1sjAu

— Sreein Sreedhar (@SreeinSreedhar) February 16, 2019
#besttoiletpaperintheworld #googlesearch #screenshot perfect answer by google👍🏻 pic.twitter.com/Wi0pK0rCvB

— Jaydip Patel (@_The_Jedi_) February 16, 2019
#besttoiletpaperintheworld #on #google #PulwamaTerrorAttack #weallarereadytoattack #IndiaUnited #BLACK DAY FOR INDIA 🇮🇳#phulwamaattack #PulwamaRevenge #India #RIPBraveRealHero #WantRevengeOnBloodyPakistan pic.twitter.com/vYIY08wBCg

— kundan singh rajput (@Singh724Rajput) February 16, 2019
This is not the first time when Pakistan was left embarrassed due to Google search results. In December last year, netizens noticed that pictures of Pakistan Prime Minister Imran Khan had appeared when they searched the term 'bhikari' (beggar) on Google. Islamabad had termed it a big conspiracy against the country and complained about it to Google.
Pakistan Punjab assembly had passed a resolution to summon Google chief executive officer (CEO) Sundar Pichai and asked him to explain why searching for the term 'bhikari' shows PM Imran Khan's photos. In the same month, Pichai had given an explanation when something similar had happened with US President Donald Trump's pictures.
In his explanation to US Congress on why typing 'idiot' in the google search bar shows Trump, Pichai had said that Google works on Algorithm and collects data from millions of websites based on 200 factors which include popularity, relevance, how others are using the search term.