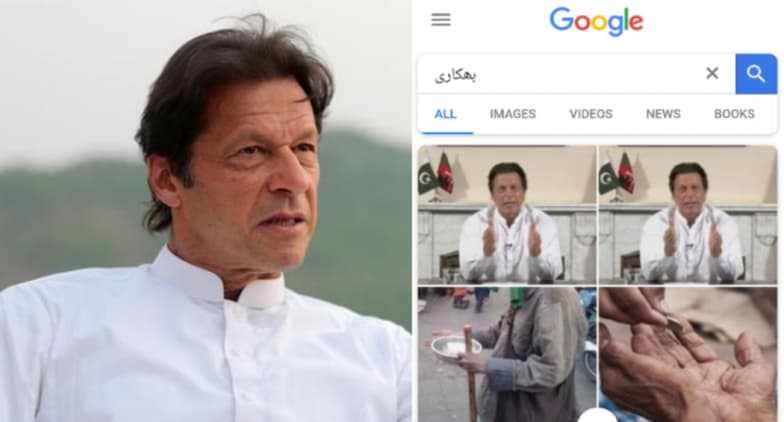 Google search results can be hilarious sometimes! And in one such instance, Pakistan Prime Minister Imran Khan appears when searched for term 'bhikari' (Beggar). On Friday, when People searched for Beggar in Urdu, photos of Imran Khan began to appear. On this issue, Pakistan government said that its a big conspiracy against them. The Pakistani government has also complained about this matter to Google. Donald Trump Appears When Searched For Word 'Idiot'; Google CEO Sundar Pichai Explains Why!
Criticising the issue, Pakistan Punjab assembly has passed a resolution to summon Google chief executive officer (CEO) Sundar Pichai and asked him to explain why searching for the term 'bhikari' shows PM Imran Khan's photos. The government has also asked Google to take action on it as soon as possible and remove the photographs. Donald Trump Pops Up if You Search 'Idiot' on Google Images, Here's Why!
Resolution submitted in Punjab assembly to summon Google CEO and ask him to explain why search for 'bhikari' shows PM Imran Khan's photo. pic.twitter.com/PTlBP49G3l

— Naila Inayat (@nailainayat) December 15, 2018
Meanwhile, if people in Pakistan Punjab Assembly would have heard the answer by Google CEO Sundar Pichai when he explained why Donald Trump appears when searched for word 'Idiot', they wouldn't have passed a resolution.
Earlier, a few days ago, Pichai explained US Congress that why typing 'idiot' in the google search bar shows United States President Donald Trump. As expected, Pichai explained to them that Google works on Algorithm and collects data from millions of websites based on 200 factors which include popularity, relevance, how others are using the search term.