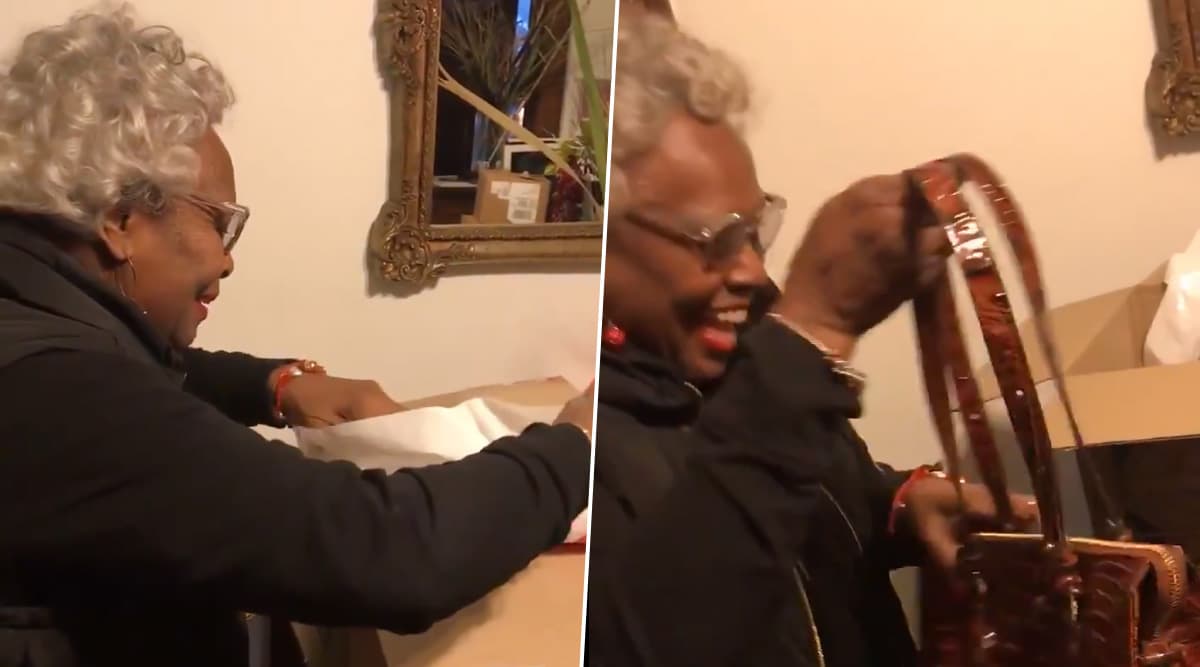 We all love it when we get a gift that we have always wanted. A 72-year-old grandmother's reaction to receiving a gift she desired is going viral. A video of her excitedly jumping and screaming in happiness on receiving a purse has been shared online by her granddaughter, and it is winning the internet with over 10 million views in just two days. It was a purse that she wanted since the last 20 years but never mentioned it to anyone. When she finally got it on her birthday, her joy knew no bounds! Grandmother Giggling And Swaying After Eating Grandson's Cannabis-Laced Food Leaves the Internet in Splits (Watch Video).
Twitter user Zahria Lavette Palmer, of Flint, Michigan, captured her grandmother's reaction on opening her gift. When she realised it was the purse she always wanted, her excitement turned into happy screams and jumping in joy. She just cannot contain her excitement and even puts the purse over her head at a point. Her excitement is winning the hearts on the internet as the video continues to go viral. Grandma and Granddaughter's Fashion Faceoff Is Taking Instagram by Storm! Who Did It Better? (Watch Video).
Watch Video of Grandmother Reaction on Getting the Desired Purse:
My granny turned 72 years old yesterday. Enjoy her opening the purse shes been wanting for 20 years. ❤️ pic.twitter.com/br7PjrXisC

— Zahriaa Lavettee 👑 (@z_lavetteeee) December 23, 2019
Isn't she the cutest? People on the internet loved her vibe and energy. The video has been retweeted over lakh times and over 10 million views. Check some of the reactions below.
The Purse is Like Her Time Machine
LOVE THIS! Also I'm pretty sure that purse knocked her back to being 30 years old! It's a time machine!

— DeMane Davis (@DeManeDavis) December 24, 2019
SO Cute!
This is so cute 😭

— 𝕱𝖆𝖘𝖍𝖎𝖔𝖓 𝖘𝖙𝖞𝖑𝖎𝖘𝖙 (@styledbyrati) December 24, 2019
She Deserves This Happiness
Awwww so adorable🤗 and most of all I'm sure she deserves it🙌🏾

— Missy Elliott (@MissyElliott) December 24, 2019
Wholesome Content
this is the most wholesome video of 2019

— Sean Jr. 👿 (@ProdSeanWavy) December 24, 2019
She's So Full of Life
Your granny is so joyful and full of life.

Thank you for posting this.

— Kassandra Seven (@KassandraSeven) December 24, 2019
We cannot agree more! In the next tweets, the granddaughter also mentioned that her granny hadn't mentioned it to anyone that she wanted this purse, unless recently. So on her birthday, the family got the Brahmin purse for her. And we just love her reaction. This also reminds us of another viral video of the little girl who was so excited to receive a banana from her dad. While the father agreed it was the worst gift to give, his daughter was too happy to receive the fruit even.