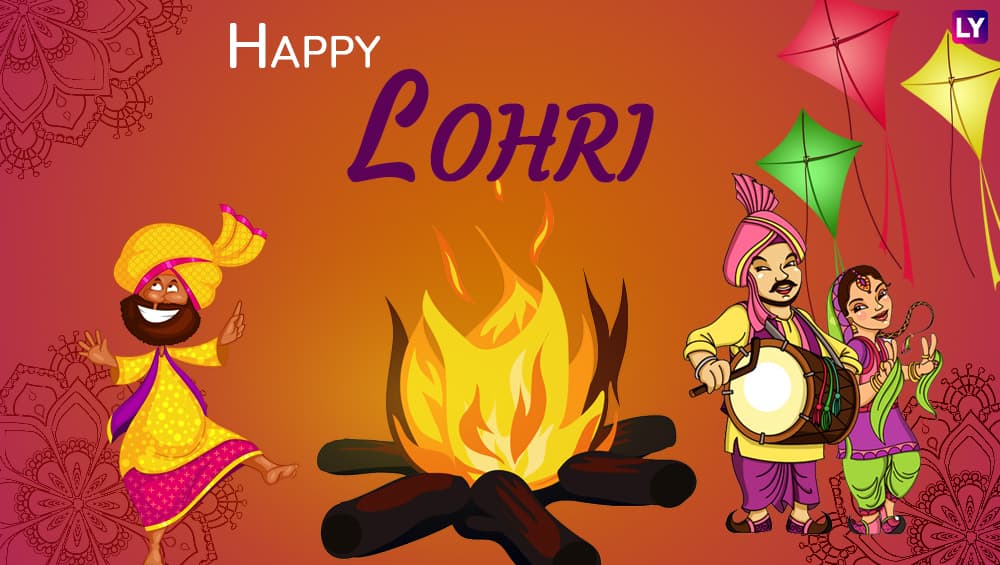 The Punjabi folk festival, Lohri is celebrated with great pomp and fervour by Hindus and Sikhs in Punjab. It is observed on January 13. People across North India look forward to celebrating the popular festival by following varying customs and traditions. Lohri is believed to mark the end of the winter season and the beginning of sunnier days. The festival is celebrated with dance, music and great food. Punjabis across the country celebrate the auspicious festival by performing the traditional Lohri Puja. As we observe the festival, people are sending Lohri messages and images to each other. Twitterati is sharing Happy Lohri wishes on social media platforms. Happy Lohri 2020 Messages in Hindi: WhatsApp Stickers, HD Images, Hike GIF Greetings, SMS, Quotes and Wallpapers to Send Family & Friends.
Lohri is observed in the month of Paush and is set by the solar part of the lunisolar Punjabi calendar. The Lohri predominantly marks the passing of winter solstice and the beginning of the time when the days get longer. Meanwhile, people are sharing their stories about celebrating Lohri and extending wishes to each other at the festival. Lohri 2020 Wishes in Punjabi: WhatsApp Stickers, GIF Images, Lohri Wishes, Messages, SMS, Quotes & HD Wallpapers To Send on Punjabi Festival.
Check Out The Tweets Below:
Greetings and good wishes on the festival of #Lohri. May it bring happiness, good health and prosperity in everyone's lives.#HappyLohri pic.twitter.com/FlTjRPOCRK

— Ashok Gehlot (@ashokgehlot51) January 13, 2020
Best Wishes on Lohri:
लोहड़ी की लख-लख बधाइयाँ!

May this festival of zeal and verve fill your life with happiness and prosperity. #HappyLohri pic.twitter.com/eH2iWHVRwS

— Dharmendra Pradhan (@dpradhanbjp) January 13, 2020
Happy Lohri!
लोहड़ी की लख-लख बधाइयाँ!

Hearty greetings on the auspicious occasion of #Lohri. May this harvest season enrich your lives with prosperity, good health & happiness.#HappyLohri pic.twitter.com/eEePrn41G6

— Manohar Lal (@mlkhattar) January 13, 2020
Happy Lohri Folks!
May the ignite of Lohri burn all evils inside us.#HappyLohri pic.twitter.com/mCOXxZan51

— Pankaj Nain IPS (@ipspankajnain) January 13, 2020
May Goodness Follow You!
Wishing you all a very "HAPPY LOHRI"

May the bonfire of LOHRI burn all the moments of sadness & fill your life with joy, peace, prosperity & good health . #HappyLohri pic.twitter.com/urR1cH5DJe

— Rani Rampal (@imranirampal) January 13, 2020
May the festival bring you joy:
May this Lohri fill your life with joy, good health, and success always. Wishing all a very warm and prosperous Lohri! #HappyLohri pic.twitter.com/KjC5a1zA3W

— Vijayasai Reddy V (@VSReddy_MP) January 13, 2020
Happy Lohri, Everybody!
Happy Lohri to you all! Hope the fire of the holy bonfire provides warmth and divine guidance this Lohri.#HappyLohri pic.twitter.com/jngMIox02o

— Niraj Kumar (@neeraj00640920) January 13, 2020
According to tales, the history of Lohri can be traced back to stories of Dulla Bhatti who is known for extraordinary valour and colour. He had fought against Emperor Akbar becoming a hero for his people. Hence, all songs and poems sang on Lohri has words expressing gratitude to him. People dance in circles around the fire as a mark of paying their respects. They seek blessings from their elders and near ones. Folkdances and folksongs are popular at the festival. The fire lit with the Lohri pyre is believed to end evil, negativity and to welcome positivity and good life.