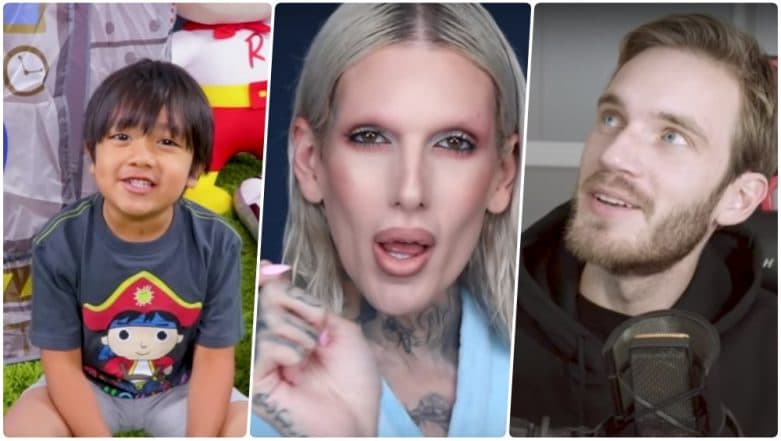 In a world dominated by social media, YouTube has become one of the largest entertainment mediums of all time. The video sharing platform is full of crazy talented people, whom you can watch over and over again and never get bored. Not all, but those with millions of subscribers are as popular as any business tycoon, or Hollywood/ Bollywood personalities are. As 2018 is almost coming to an end, Forbes has listed the highest-earning YouTubers of this year. You might be surprised looking at the names, but not unless you already speculated so being an active subscriber to their channel. 6 YouTubers You Should Follow If You Love Fashion. 
While the infamous Paul Brothers are in the list, seven-year-old Ryan ToysReview tops with a whopping 22 million dollars (above Rs. 154.9 crore) 2018 earnings. Without beating around the bush, take a look at the Forbes highest-paid YouTube stars. If you haven't, their channels are definitely worth a look.
1. Ryan ToysReview
The seven-year-old Ryan is just like every other child of his age. His love for Legos, trains, cars and toys have earned him about 17 million followers. It is actually his honest reviews that YouTube visitors love about him. The channel which was set up by Ryan's parents in March 2015, has a line of videos, each having billions of views making him the highest earner for 2018. YouTubers Roman Atwood and Brittney Smith are Engaged and Fans Cannot Keep Calm. 
2. Jake Paul
The superbly energetic younger brother of Logan, Jake Paul earned a "career-best income" from his already impressive social media enterprise. According to Forbes estimation, Paul made a 21.5 million dollars (above Rs. 151 crores) 2018 earnings.
3. Dude Perfect
The five sports person, Coby and Cory Cotton, Garrett Hilbert, Cody Jones and Tyler Toney is a treat to the eye. What started as an amateur video of a couple of trick shots by some college buddies, Dude Perfect has turned into a hugely successful company that even endorses some famous athletes in the world. Their followers have made them a 20 million dollars (above Rs. 140 crores) 2018 earnings.
4. DanTDM
In 2017, British gamer Daniel Middleton topped the Forbes list of highest-paid YouTube stars. Amidst the increasing competition, he is still among the top five highest earners. His insanely popular videos have made him earn about 18.5 million dollars (Rs. 130 crores) 2018 earnings.
5. Jeffree Star
Best known for his brilliant beauty and fashion ideas, Jeffree Star was sure to make in the highest-paid list for this year. He sells about 100 million dollars plus eyeshadow, lipsticks and highlighters annually. According to Forbes, Star made up approximately 18 million dollars (above Rs. 126.8 crores) 2018 earnings.
6. Markiplier
Mark Edward Fischbach aka Markiplier currently has 22 million subscribers on his channel. He is famous for making videos of himself playing survival horror video games. This crazy head made about 17.5 million dollars (above Rs. 123 crores) according to Forbes 2018 earnings.
7. Vanoss Gaming
Vanoss Gaming is one of the most hilarious YouTube gaming channels. Created by a Canadian guy, Evan Fong in 2011 together with his friends, they produce funniest videos which are loved by the subscribers. The channel made a whopping 17 million dollars (above Rs. 119.7 crores) in 2018 earnings.
8. Jacksepticeye
Sean William McLoughlin popularly known as Jacksepticeye on YouTube is one of the active members the platform has seen so far. Because of his colourful video-game commentary, he became the most famous YouTuber in Ireland. For 2018, he made about 16 million dollars (Rs. 112.5 crores).
9. PewDiePie
PewDiePie is an internet sensation and has a tremendous 72.5 million followers on his channel. His net worth has steadily risen since he created his YouTube channel in 2010. Although he has a habit of immersing himself in controversy, PewDiePie made a 15.5 million dollars (above Rs. 109 crores) 2018 earnings.
10. Logan Paul
The YouTuber was blasted on social media this New Year's Eve after he posted a clip of himself visiting the famous Aokigahara "suicide woods" in Japan, a video that included an apparent suicide hanging from a tree. He apologised, and his loyal fans kept his strong business afloat. As per Forbes, Paul made about 14.5 million dollars (above Rs. 102 crores) 2018 earnings, standing away from his younger brother Jake.
So here it is, 2018's highest-paid YouTubers. Their ride has been a roller coaster. The rising YouTubers may spend most of their time on the computers, but with their creativity and energy, they are collecting millions of dollars in cold and hard cash. It must be noted that the estimated earnings are from June 1, 2017, to June 1, 2018.