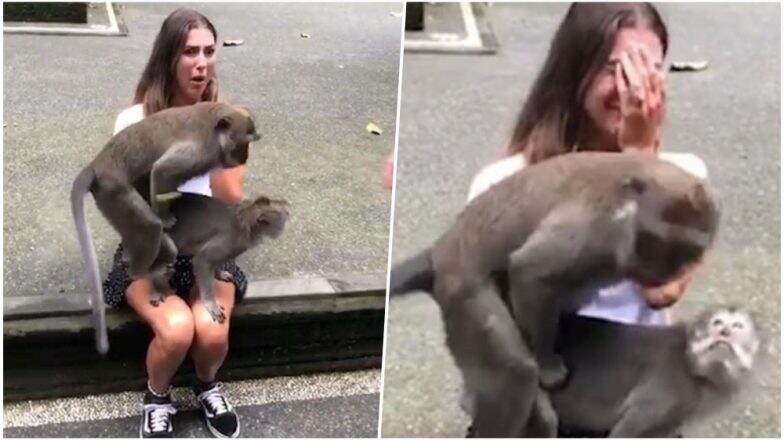 A pair of horny monkeys ended up scarring an unsuspecting female tourist for life by having sex on her. A woman visiting the Sangeh Monkey Forest in Bali, Indonesia didn't seem to mind when a female long-tailed macaque monkey landed on her lap. But she had the shock of her life when a male monkey also hopped on and started having sex with the female right on the woman's lap. Although the two scrammed within seconds, the tourist was left red-faced and shell-shocked after the monkeys' amorous encounter. The video of the incident, captured by the other tourists, has since gone viral. Did You Know There's an Island of Drunk Monkeys in Africa?
The woman didn't know how to react to the sudden development and she simply shrieked and covered her face in embarrassment. Some quick thinking tour guides who were at the spot shooed away the lusty twosome before they caused the woman more distress. The other tourists couldn't believe their eyes and can be heard laughing their heads off as the two monkeys got on with their business.
Here's the Hilarious Video:
Two years ago, a similar incident unfolded in Bali, Indonesia where an American tourist was caught off guard by two monkeys who couldn't get a room. At the Sacred Monkey Sanctuary in Ubud, Indonesia, two monkeys hopped on to the man's back and started having sex while the female held on to his head. The man's friends are heard laughing loudly when the two went on with their monkey business. Monkey Punches Innocent Little Girl in Face at a Zoo in China; Watch the Viral Video.
Here's The Video:
Macaque monkeys have also made news in the past for their sexual behaviour. Last year, scientists from Lethbridge in Canada published a paper in which they reported sexual activity that happened between a macaque monkey and a deer in Minoo, central Japan.