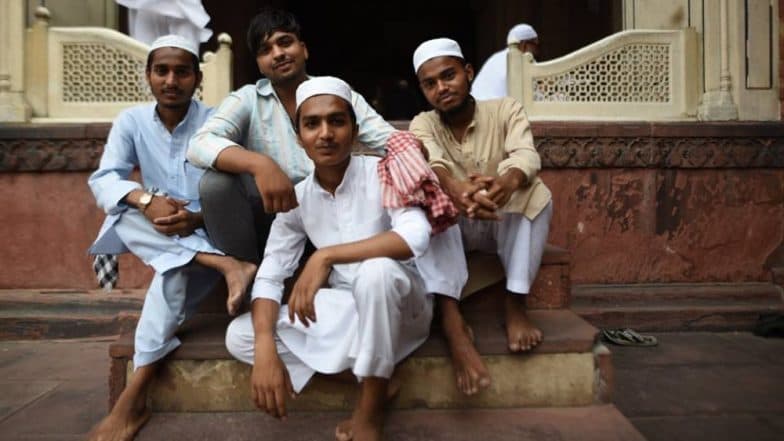 Amidst all the war-mongering and hate-spreading that India is witnessing, the power of love is long forgotten. Social media could be blamed as one of the major instigators of hate today, but we as a community of humans fail to use our abilities to judge a scenario. Negatism drawn by Surf Excel for their recent ad promoting communal harmony is a perfect example of how people fail to get past their preconceived notions. And as talks on the ad continue, Humans of Bombay, a popular blog shared a photo of four boys sitting on the steps of a mosque smilingly looking at the camera. The caption, "The four of us are really good friends and have come here for the evening Namaz. He's a Hindu, but he still comes with us every day, after work, so that we can spend some time together." #SayNoToWar: This Beautiful Video Shot in Kashmir Urges People to Choose Love Over War Amid India-Pakistan Tensions.
The post is a gentle reminder on the society's failure to see love as a dynamic force against hate. It tells us how perpetual hate can be broken if we see each other as humans, and believe in 'living together'. It further reads, "We pray for him and he prays for us – he even knows certain parts of the Quran by heart, and we're learning the Gayatri Mantra from him!" The four friends, of which three are Muslims and one a Hindu refuses to paint a religious picture on each others' faces and firmly holds the beauty of friendship above it. The post ends by saying, "There's just one person up there, and He listens to all, no matter where you're from. If the whole world understands that, then wouldn't it just be heaven on earth? Video of Muslim Man Offering Namaz Inside Gurudwara Is Truely Heartwarming!
Check out the beautiful Facebook post here:
Surf Excel and its parent company Hindustan Unilever were heavily criticised with some even boycotting their products after they released an ad promoting communal harmony. #BoycottSurfExcel was among top trends on Twitter with people tweeting that the brand aiming at a religion's beliefs. In the meanwhile, even Microsoft Excel received bad reviews on the app with some mistaking it for Surf Excel. Amidst all the hate, let's spread love, believe in its strength and pursue it adamantly; that's what the world requires today.