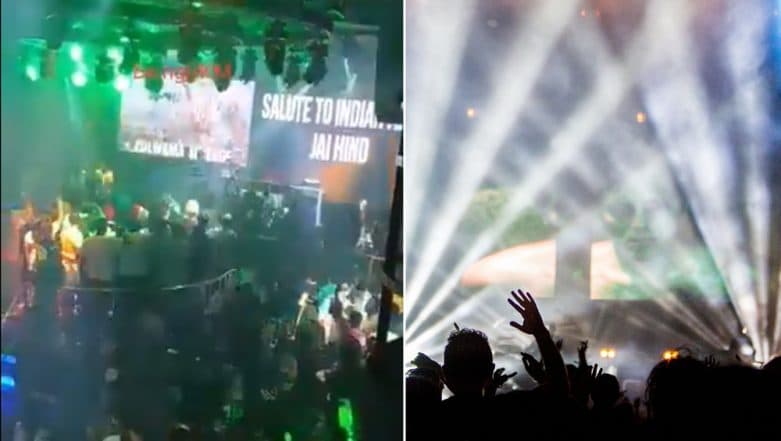 The tensions between the two nations India and Pakistan is not just a concern of the two countries alone. The escalation of the political tensions felt in the last few days have been discussed even at international levels. In all of this escalating tensions, a nightclub called Nasha in Pataya, Thailand reportedly played the Indian National Anthem to pay a tribute. A video of the same is being shared on social media sites. The Pulwama attacks on February 14 in Jammu and Kashmir killed more than 40 of CRPF jawans. The incident was followed up with an air strike conducted by Indian Air Force on terror group Jaish-e-Mohammed at Balakot in Pakistan. A day after there was a counter fight between India and Pakistan which resulted in Indian pilot Abhinandan Varthaman falling in Pakistan's territory. The return of IAF Wing Commander to the Indian soil was no less than a historic moment for Indians. Amul Pays Tribute to IAF Wing Commander Abhinandan Varthaman's Moustache With a Video, Twitterati Impressed.
The issue of national importance has not been confined to India or Pakistan alone but even Thailand has apparently paid a lovely tribute to the return of IAF pilot Abhinandan Varthaman and to the CRPF jawans who lost their lives in the Pulwama attacks. A Twitter user shared a video which shows amidst all the light and dance show that usually goes on in nightclubs, the Indian National Anthem is being played and people paying their respects. The big screen displays, 'Salute to Indian Army, Jai Hind.' Pakistan Isolated: After Australia, France Extends Support to India Over IAF's Air Strike on JeM Terror Launchpads.
Watch Video of Indian National Anthem Being Played in Pattaya Nightclub in Thailand
National Anthem being played at Nashaa Club, Pattaya, Thailand. Salute to Our Brave Soldiers and Airmen. #PulwamaRevenge #BalakotAirStrikes #WelcomeHomeAbhinandan #JaiHind pic.twitter.com/XVsD0bDgih

— Ravi Karan Malhotra (@BeingRKM) March 1, 2019
The authenticity of the video is not known, but if true, it is a nice gesture done by people of Thailand. Many people are sharing it on Facebook and WhatsApp. The escalating tensions between the two countries which have been tagged as enemies for long has been a concern for not only the residents of the country but even internationally. A situation of fear and war was seen among the citizens although everyone only hoped for peace.
(LatestLY does not confirm the authenticity of the video)