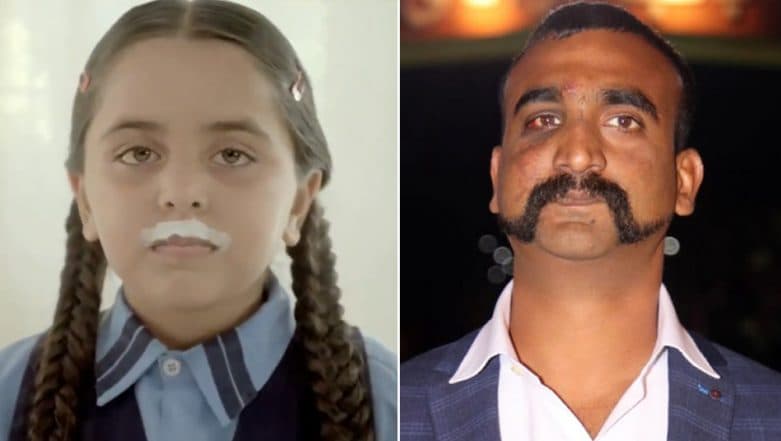 Wing Commander Abhinandan Varthaman has become a household name within the last few days. The braveheart IAF pilot's return from Pakistan was one of the most anticipated moments for every Indian. Several people have made beautiful tributes for his bravery when he was in Pakistan Army's custody for 2 days. Amul, a brand which is known for picking up on the latest happenings and depicting them through their doodles, paid a beautiful tribute to Abhinandan's moustache. Other than his bravery, people are talking about Abhinandan's gunslinger moustache and it is more likely to become the next style statement. Amul too posted a video dedicating to Abhinandan's moustache and Twitter is loving it. Amul Welcomes IAF Wing Commander Abhinandan Varthaman With a Beautiful Doodle. 
Just after the first visuals of Abhinandan Varthaman's return came out, people were talking not just about his bravery but also his well-maintained moustache. Amul gave a fitting tribute with Amul Mooch: To Abhinandan from Amul! The minute-long video is about men flaunting their moustaches and a girl ending it as she drinks a glass full of milk, marking a moustache on her upper lips. It seemed a perfect tribute to give to the IAF braveheart. Wing Commander Abhinandan Varthaman's Moustache is Gaining Praises Everywhere After His Return! People Express Desire to Sport IAF Pilot's Look.
Watch Amul's Mooch Video as a Tribute to IAF Wg Cdr Abhinandan Varthaman
#Amul Mooch: To Abhinandan from Amul! pic.twitter.com/NAG3zNMlIL

— Amul.coop (@Amul_Coop) March 2, 2019
Several users commented they loved the creativity the brand puts in every time. Check some of the tweets praising the brand for its lovely tribute.
Iconic Amul's special salute to another icon #AbhinanadanVarthaman 🇮🇳🇮🇳Moustache is the latest emoji depicting valour and courage!! Kudos to your creative team #Amul The Taste of India 🙌🏻

— Roli Mehra (@Roli_Mehra) March 2, 2019
Delightful Tribute
The best thing I've seen on Twitter this week! Kudos to the Amul PR and advertising team for producing the most relevant and delightful content!

— Pragya Chauhan (@pragya2810) March 2, 2019
Only Amul Could Do It!
WOW!!! ONLY AMUL could do this. A wonderful tribute to our Superhero Abhinandan.

— Yogesh Rao (@yogesharao1) March 3, 2019
Amul has been impressing the market with its topicals every day and this one video encompasses the idea of dedicating it to Abhinandan Varthaman. His moustache is already trending with people expressing a desire to sport one, and Amul made a beautiful dedication to the IAF pilot and his moustache together.