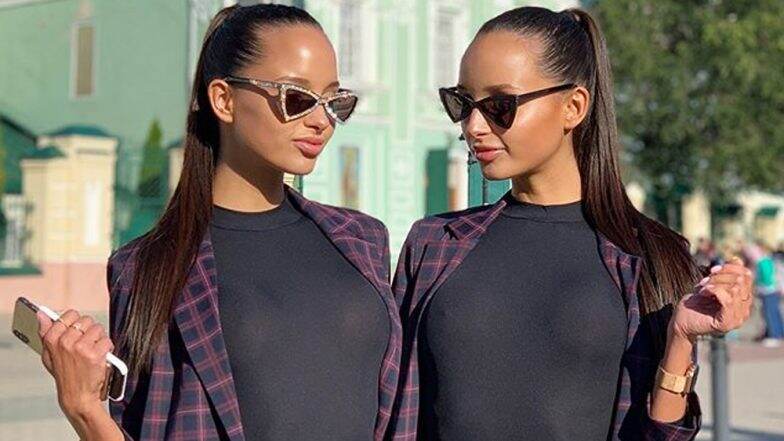 Russian social media sensations, Adelya and Alina Fakhteeva have always made the headlines for showing off how rich they are to their Instagram followers. The Russian twin sisters do everything together. Their social media page is full of saucy snaps of themselves living the high life in private jets and fancy yachts, and doing everything posh. But the sisters have just been trolled online after they made a video of them feeding sushi to a homeless man. The stunt was not a noble deed but rather a ploy to win an iPhone through the "We Care" competition. Angry netizens slammed Adelya and Alina, calling their video totally 'distasteful.' Dan Bilzerian Lives an Exotic Life! These Instagram Pictures and Videos Shows Sexy World of The Bad Man of Internet. 
The video begins with the girls walking down the streets wearing branded clothes and glasses. They apparently spot a homeless man in a wheelchair. Faking concern, in a careful move, they turn to each other and speak in Russian. The Sun quoted them, saying, "Poor thing, he probably hasn't eaten for a long time." So, the rich kids decide to order food for the man. They appear to take out their phone and order a meal. And the next scene shows a food delivery man reaching the spot with a box of sushi and a set of chopsticks. They stand either side of the homeless man and feed him the Japanese food before handing him the tray. Gianluca Vacchi, Italian Millionaire Playboy Films Himself Spanking Bums of Bikini-Clad Models, Internet Is Not Impressed With His Distasteful Video. 
Watch the Video:
Soon after the video went viral, Adelya and Alina's followers slammed the sisters on Instagram. They labelled the clip as "distasteful." All this was a part of We Care (Nam ne vsio ravno in Russian) competition organised by an association called, the "Youth of Tatarstan." Local media further confirmed that the man in the video is indeed a homeless person. The prizes for the winners of the competition include an iPhone XR, a PlayStation 4, an Apple Watch Series and other expensive items.