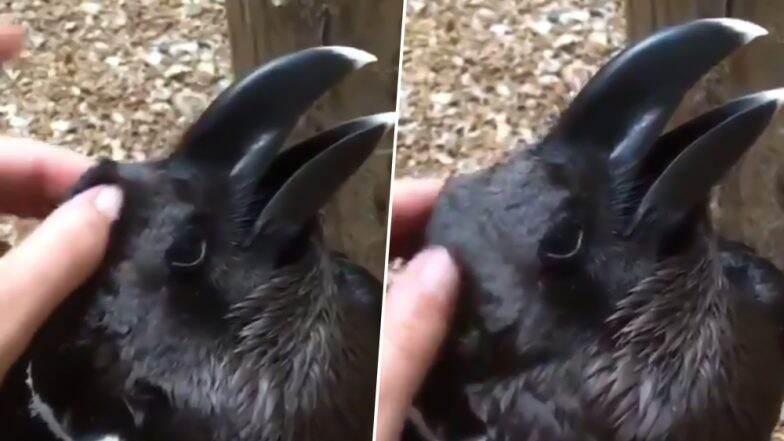 Looks like pictures and videoes creating optical illusion are taking over the internet. Right from the time the gold and blue dress confused netizens, similar pictures and videos haven't stopped taking the internet by storm. However, the latest one to join the list is a video of creature that had divided Twitter. While the person who uploaded the video called it a "rabbit getting stroked on its nose" but the internet is not having it. To many people, it also looks like a bird that is getting stroked on the backside. At first, we too could see a bird, presumably a crow, getting stroked at the back but the more we see it, we start having second thoughts about it.  Optical Illusion or Not? Man's Mirror Selfie Video at Illinois Store Goes Viral.
Well, it only gets annoying, you see, once it looks like a bird and then like a rabbit. You will have to watch the video for yourself and decide.' Beach or a Door' Is The Latest Illusion Dividing The Internet, Check Some Other Confusing Illusionary Images That Went Viral Along With The Explanation.
Check Video:
Rabbits love getting stroked on their nose pic.twitter.com/aYOZGAY6kP

— Dan Quintana 🐰 (@dsquintana) August 18, 2019
Here Are Some of The Reactions:
It Will Take Us a While to Understand That
— Brainoscience (@brainoscience) August 18, 2019
Like, Really
Here's my rabbit pic.twitter.com/KuSGNOAAQR

— Stan O'Connor (@TourguideStan) August 18, 2019
Flashback?
It's gold.

No,no, wait, it's blue.

— Dan Shires (@vertigowooyay) August 18, 2019
Please Say It's a Crow
That's a feckin crow pic.twitter.com/69JUh5TmH4

— Not Luke Richards (@LukeRxchards) August 20, 2019
LOLOLOL
My duck does, too! But mostly she likes to glare at me over her shoulder when I pap her... pic.twitter.com/HMnEhMT1Wy

— Caz (@skippity_doo) August 19, 2019
Confusion
ok so I posted this on your fb too, but gotta make sure people appreciate it here too haha pic.twitter.com/zFl1uEvmDi

— Dani Crain (@DCrainium) August 18, 2019
ROFL
— ShadowSpade (@ShadowSpadeXIV) August 19, 2019
This comes soon after the viral optical illusion image that initially looked like a beach actually turned out to be a broken car door. The image was of a car door but it did not look like one and, in fact, looked like a beach picture.