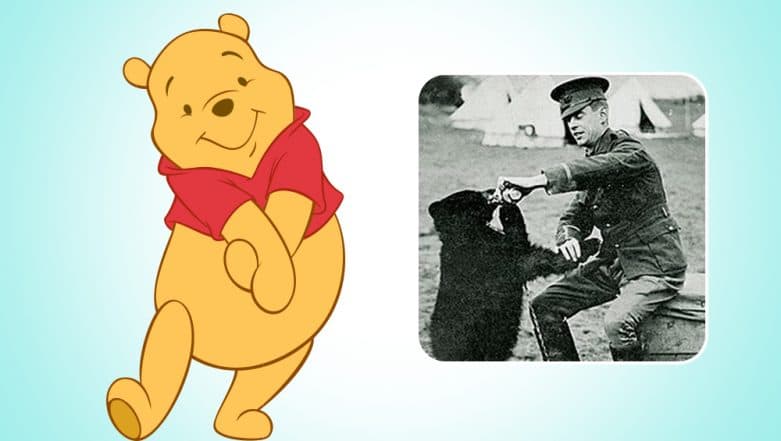 Disney has given us some iconic cartoon characters. Among the many lovely cartoons is the yellow teddy bear with a red shirt, Winne the Pooh. The cartoon was based on the works of A. A. Milne. Several cartoons, books and movies were made on this character and we all looked at Winnie as a male bear. But originally Winnie, the Pooh was a girl! Was our childhood a lie? Delving into the history of the character, the yellow bear is supposed to be a girl. DuckTales New Theme Song in Hindi 'Zindagi Toofani Hai' by Shaan And His Son Shubh Will Make You Go 'WooHoo'! Watch Video.
Winnie as a female was also very different from what we have seen on screens till now. The real Winnie bear, a female was a black bear who lived in London zoo. She was rescued by Harry Coleburn in the year 1914. He was the one who named her Winnipeg, after his hometown in Canada. He brought Winnipeg to England with him where he was working. Winnie the bear thus became involved with the other members of the troops. When Harry had to move to France, she was sent back to a zoo in London. The children at the zoo were delighted with Winnie and she got popular among them. Christopher Robin was among the kids who frequently visited the zoo, was the son of A. A. Milne the author of the series. Instagram Bear Stepan Poses With Beautiful Women! Viral Pictures Are Un-Bear-Bly Cute.
A. A. Milne then decided to create an entire series on this popular Winnie bear from the London zoo. Adding a Pooh to its name, the bear was immortalised into the books. Disney then got it to the screens in the 1960s. The series featured Winnie, the Pooh as a male bear. So now you know the history of how Winnie came into existence. The cartoon has an accolade of being in the list of the 50 greatest cartoon characters of all time.