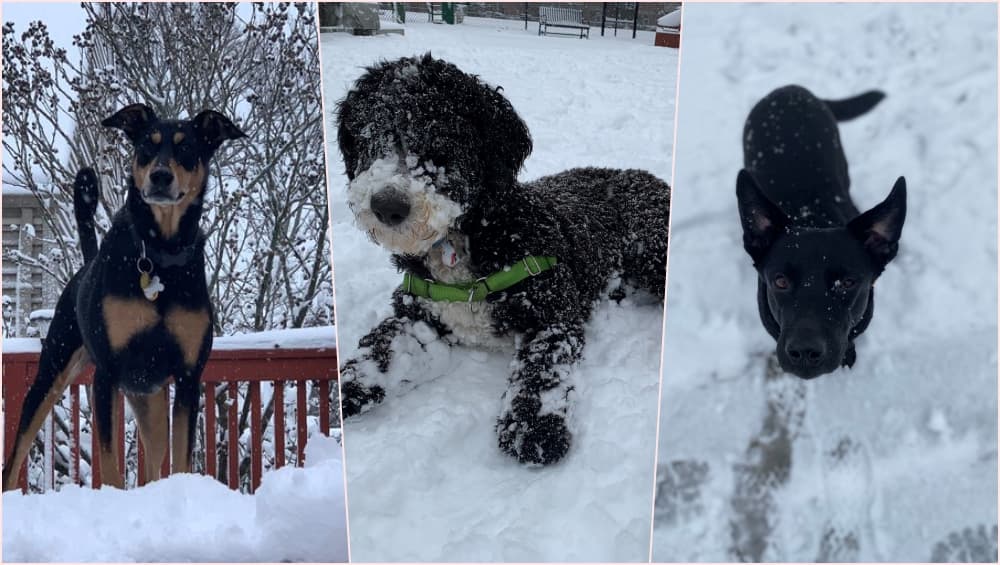 We all love the first snow and the rest of it staying calm during the season. And our doggos love it too! Every year as the winter season hits us, videos of pets going crazy at the snowfields surface on social media platforms. It melts our hearts in every way possible! Although when you release dogs into the snow, it instantly becomes un-driven. They transform into a total mess with puppers losing their mind in the fluff-stuff. But we never mind! With no surprise, this winter as well, dog owners are sharing outrightly adorable photos and videos of their pets playing in the first snow of this season. They are sure to take away all your blues, in case if you have any! Hortaya Borzaya Dogs in Matching Turtlenecks for Winter. 
Dogs are the best companion anyone could ask. They share many similar traits like us! Remember the days before work and responsibilities, how crazy you were to play with snow? The excitement to play in the first snowfall of the year is probably felt by your pets too. These dogs are going insane as they get to play outside with the snow. There is something that is so amusing to watch our furry friends play with snow, without a care in the world. If you are a dog owner, and have experienced the first snow of this season, we encourage you to take your dogs out and let them play on the snow, just like these people did. Capture the moment! Instagram Star Pet, Oliver the Dog Is so Cute That He Is Always Mistaken for a Fluffy Teddy Bear! These Paw-dorable Pictures Are a Proof. 
It's A Snow Day!
My dog begged and whined to be let outside only to run and play in the snow ❄️🤣 thanks for messing up the white blanket!! #snowday I guess I have a #snowdog ? #LookingForTeam pic.twitter.com/dRxrLWGqDb

— Tala Awad (@nptala) December 3, 2019
Look at the Adorable Mess!
The Horrible Goose has seen his first snow storm and he and his dog park buds pronounce it Very Good. pic.twitter.com/UF6WPXvwHT

— Willa Hammitt Brown, Festive Edition (@hammitt) December 3, 2019
This Pooch is Extremely Happy!
When it's a #SnowDay the dogs will play! pic.twitter.com/I1sOTU9vf3

— Marc Molinaro (@marcmolinaro) December 3, 2019
Poser!
My dog loves the snow but hates the rain pic.twitter.com/d8jdVYzz41

— MARK (DRAGON🐉) FIAHSPAHK (@fiahspahk) December 3, 2019
Oh, My Heart!
For your enjoyment: Snow Dog pic.twitter.com/RwOyKajDQG

— Laura Koenig (@2nickels) December 3, 2019
Here Arrives the Pooch!
Wait for it......👀🐶❄️ #snowday #snowdog #dog #happydog #upstateny pic.twitter.com/vAKBHXuF7q

— cinstlou (@cindystlou) December 2, 2019
Sure the Paws Are Up!
[dog] snow day!! pic.twitter.com/kxNWpI6KWI

— Mari ✨ (@marisketch) December 2, 2019
But This One Likes to Rest on a Snowy Day!
At least my dog is enjoying the snow day! pic.twitter.com/ikelDSHTnB

— Ashley Afonso (@AshleyAfonso) December 3, 2019
Snow is something new for the dogs, and its novelty makes the snow look attractive to them. They get to lick it, jump in it, kick the snow around and even roll over it. Unlike dirt, dogs can submerge themselves in snow and owners do not really to have to force a bath on them. It is a total win-win situation here! So why not enjoy it? Besides, it is a lot more fun too than sitting inside when you know the white blanket spread outside.