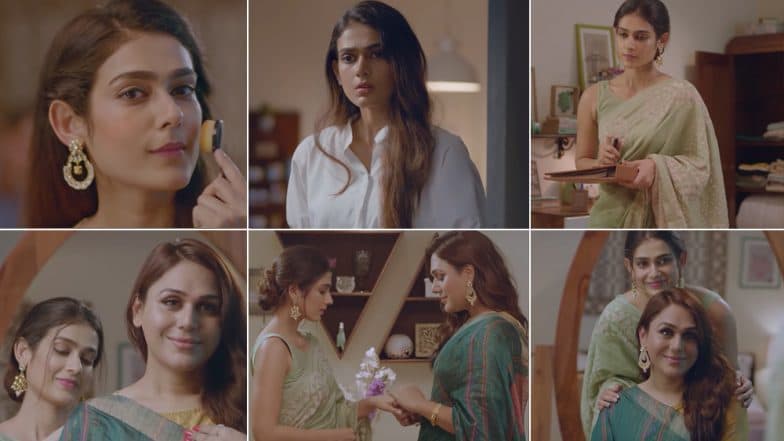 On the occasion of Karva Chauth, which falls on October 27 this year, Blush in association with Nykaa has released a campaign revolving around the theme of LGBT identity idea of breaking free from the shackles and finding who you truly are. Karva Chauth is a popular Indian festival, where married women fast and remain thirsty the entire day for the long life of their husband. It is only in the evening, when they can break their fast by looking at the moon. While, the festival may look extremely regressive and misogynistic, many women love to carry forward the tradition even today. Brands too love to latch on to these popular sentiments, creating thoughtful ads around the subject. Don't Know What To Gift Your Wife? Here Are Thoughtful Karwa Chauth Gifts Ideas For Confused Husbands.
The video is titled "Qaid" (imprisoned) is the story of Kabir and Anusha, who through their internal tribulations, come out as stronger beings and celebrate themselves for who they truly are. Highlighting the tabooed issue of LGBTQ, the ad starts with the story of husband and wife, but as the story progresses, we get to know that the Kabir wants to break free from the bonds of manhood. His wife, when she comes to know of it, doesn't leave her and go, but like a true life partner, stands by his side, and helps him discover himself. She embraces him with open arms and instils the confidence, which makes him face the society and eventually transitions into a strong and confident woman. This Video on Gender Dysphoria Featuring India's First Transsexual Model Nikkiey Chawla Is a Must Watch.
Watch the ad here:
Cons:
The ad is too long, who has the patience to watch a six-and-a-half-minute long ad? I have always failed to understand why Nykaa loves to come up with such long video ads.

The storyline is not gripping enough and drags unnecessarily. Had the story been crispier, it would have worked better.

Products are too in-your-face. The integration could have been subtler. It surely acts as a distraction and deviates the attention from the storyline.
Pros:
Aakanskha Singh is a good actor, and she alone drives the story ahead.

The story plot is refreshing, and looking at the recent 377 verdict on homosexuality, it makes a good connection.

The video features India's first transsexual model Nikkiey Chawla who was born a man and underwent a sex change surgery in 2009.
It has become a trend these days for brands to focus on social issues. And as a result, many ads with social interest message fail to impress the viewers and the message ends up looking forced. In order to break free from the clutter in the domain and catch the attention of their target audience, communication needs to be different, but they need to relevant as well.
(The opinions expressed in the above article are of the author and do not reflect the stand or position of LatestLY.)