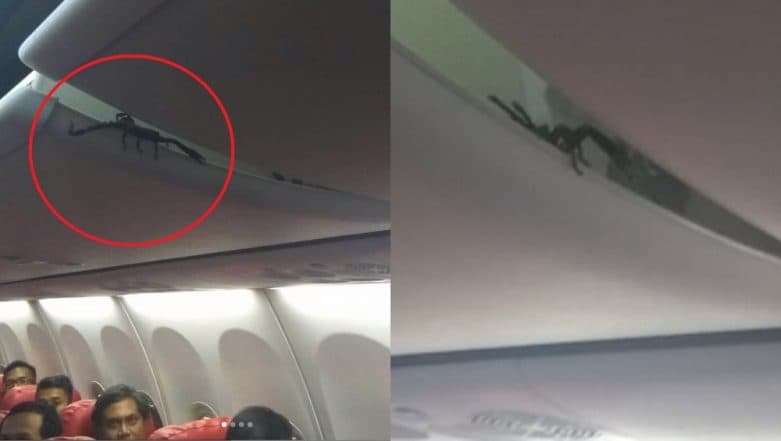 Passengers onboard a Lion Air plane had the fright of their lives as a scorpion crawled above them. A video recorded by passengers shows an arachnid slowly moving between overhead luggage area scaring passengers sitting below them. The incident happened on Lion Air flight JT-293 going from Sultan Syarif Kasim II International Airport in Riau to Soekarno-Hatta International Airport in Tangerang, Banten last week. The video of the incident has gone viral on the internet with people calling it scary.
The Jakarta Post quoted a passenger as saying, "When the plane had landed, one passenger was taking their things out of the compartment, that's when suddenly the scorpion appeared above our seat." According to the report, Lion Air spokesman Danang Mandala Prihantoro on Friday said that the airline was still investigating the incident. Pilot Enters Plane Through Cockpit Window, Old Video Goes Viral Leaving Internet Confused.
Watch the video here:
But, Danang in a statement on Friday said, "From the results of observations, according to the video or image that developed, the animal in question resembles a spider." However, photographs and videos clearly show a scorpion. He also said, "To assure the safety, security and convenience [of passengers] during the flight, the plane was properly examined to eliminate any possible pest threat."
He also added that flight the plane had been well-prepared before departing and the Boeing 737-800NG plane had passed through pre-flight checks and was declared fit to fly. Until a passenger spotted the scorpion, the cabin crew did not know about the venomous creature in the plane. It is not known how the scorpion entered the flight.