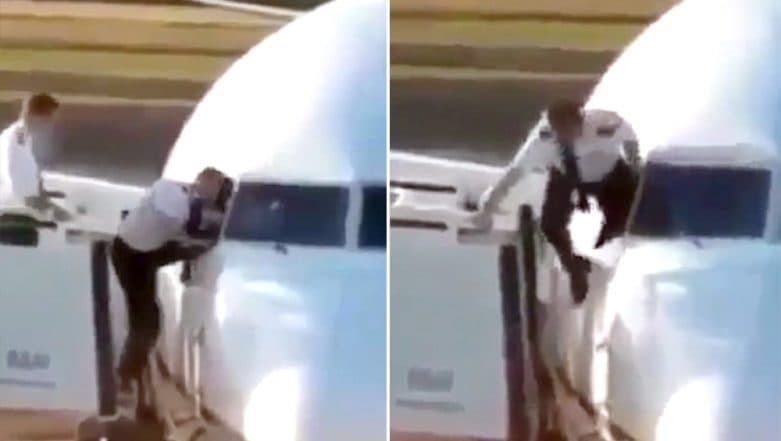 A video going viral on social media shows a pilot trying to squeeze into a plane by the cockpit windows. We are not sure what happened to the main door of the plane that the pilot that to resort to the windows. All we can think of he was locked out of the plane he was going to fly.
The incident was caught on camera from Terminal 2 of Heathrow Airport in London. British Airways pilot Jonny the Pilot had posted the video on his Twitter account with the caption: 'When you're running late for work and you forget your keys.' However, the tweet was later deleted. The pilot whose video went viral has not been identified yet. Triangle Shaped UFO Spotted on US Aircraft Carrier? Hoax Busted, Here Is the Real Unedited Video.
The pilot can be seen standing with one leg inside the cockpit, trying to pull the other one inside. As he struggles, another flight crew member can be seen walking up to him to help. With the video being shared widely on social media, most people appeared confused and shocked. However, it seems it's an old video that has started doing round again. The crew member who helped the pilot can be seen recording him as he tries to get himself inside. It seems the video was taken before take-off.
Watch the viral video below:
Some even asked if it was normal for the pilot to get in through the window as this man did it was like a daily routine. A Twitter user wrote, "I'll venture to say that's only done when the bulletproof door gets locked, and you can't remember the code."