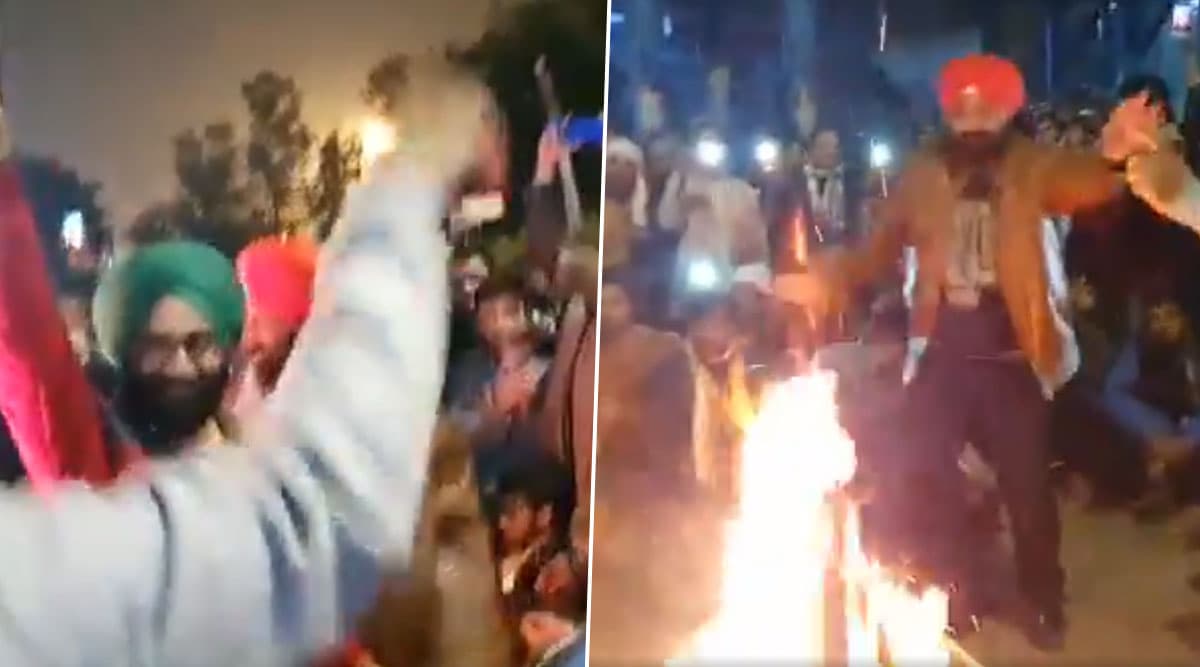 New Delhi, January 14: Days after people from different faiths came together and participated in a "sarva dharma sambhava'' prayer ceremony at Delhi's Shaheen Bagh, people were seen celebrating Lohri at the protest site in chilling Delhi night. Undeterred by the severe cold waves sweeping the national capital, a video shows people participating in the folk festival by dancing around a bonfire. Anti-CAA Stir: At Shaheen Bagh, Protesters Gather to Mark New Year's Eve with a Difference.
A video shared on Twitter shows the people participating in the festival at Shaheen Bagh. In another video, a woman says that they were glad they celebrated the festival of Lohri together. She also added that it is this spirit that helps keep the "morale up" in difficult times. The people wished that they celebrate the festival of Lohri at Shaheen Bagh next year too before breaking in a loud cheer of "Happy Lohri." Lohri Date in 2019 and Significance: History, Importance & Rituals of the Punjabi Harvest Festival Celebrated Before Makar Sankranti.
Watch the Video of People Celebrating Lohri in the Video Below
Lohri celebrated at #ShaheenBagh tonight. pic.twitter.com/qAyJ6PTTFY

— Tarique Anwer (@tanwer_m) January 13, 2020
Another Video From Shaheen Bagh of People Wishing "Happy Lohri"
"Ji, bilkul zulmaton ke daur mein bhi geet gaye jayenge, Hausle isi se buland hote hain."#ShaheenBagh #HappyLohri pic.twitter.com/4CBQYaatzb

— Tarique Anwer (@tanwer_m) January 13, 2020
It has been a month since the anti-CAA protests started at Shaheen Bagh near Jamia Millia Islamia University. Undeterred by the severe cold wave sweeping Delhi, nearly 200 women have been camping day and night on Kalindi Kunj Road near Shaheen Bagh against the new citizenship law and the proposed NRC, as police officials try to persuade them to bring an end to the agitation. Anti-CAA Stir: Shaheen Bagh Protests Must End, Locals Facing Issues, Says BJP MP Meenakshi Lekhi.
Police officials said they have held several meetings during the past five days with influential locals and religious leaders to convince them to put an end to the sit-in, which has stopped traffic on the road connecting Noida and south Delhi since December 14. Due to the unavailability of the road, the traffic load has shifted to Delhi Noida Direct (DND) flyway.
Expressing solidarity with those protesting against the amended citizenship act, Congress leader Shashi Tharoor on Sunday visited Jamia Millia Islamia and Shaheen Bagh and said that the law was against the ideals of unity espoused by Mahatma Gandhi. Tharoor later travelled in metro to reach JNU where he addressed the students and condemned the violence by a masked mob on January 5.