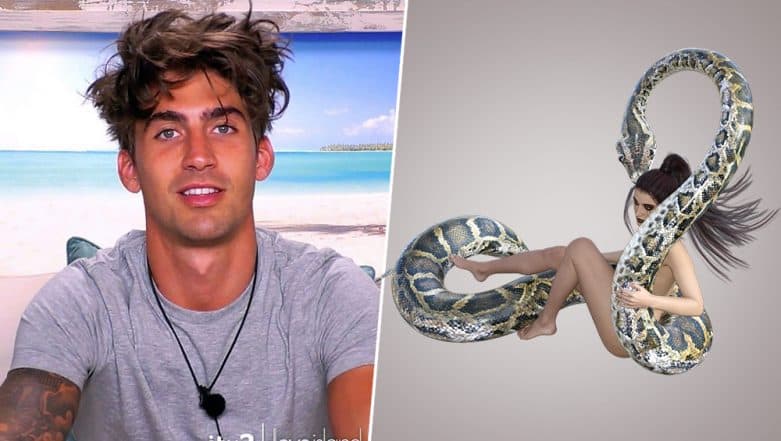 Love Island 2019 is in full swing and suddenly Chris Taylor has won all social media attention after revealing that his favourite sex position is the "Anaconda sex position." The witty and humorous contestant has left the world googling "Anaconda sex position" ever since he made the confession to his new girl Harley Brash on the show. The search for anaconda sex has surged and the results are kind of brain-freezing. On Friday night, Chris the anaconda was his favourite sex position, although he didn't get into details, saying that he didn't have time to explain. To this Harley replied, "You can't just make sex positions up though." For those who don't know, Love Island is a TV show wherein a group of men and women participate in a series of tasks with a partner that they keep swapping or as they say regular recoupling happen till they meet the love of their life. Sex Query of the Week: What Are the Best Sex Positions for Men with Small Penis Sizes?
Take a look at their conversation [Watch Video]:
As soon as this conversation went on air, Twitter was left confused with the new phrase, "Anaconda sex position." The social media was filled with hilarious reactions. Sex Query of the Week: How Can I Increase My Penis Size Naturally?
Take a look at some of the hilarious reactions on Chris' Anaconda sex position convo:
Live scenes of the UK going onto the Internet and googling "The Anaconda" sex position right now #LoveIsland pic.twitter.com/AxvUkRWewj

— Jasmin (@ItsJasminHere) July 19, 2019
LOL, same
Favourite sex position?

Chris: the Anaconda

Everyone else: .....

#LoveIsland pic.twitter.com/NWv4m5Emss

— Gordy (@GordyLeith) July 19, 2019
Could it be any funnier?
"What's your favourite sex position?"

Harley: "Reverse Cowgirl"

Chris: "The Anaconda"

Me sitting next to my parents and trying to avoid explaining what the "Reverse Cowgirl" and "The Anaconda" actually is: #LoveIsland pic.twitter.com/yyOzfpEpxt

— Jasmin (@ItsJasminHere) July 19, 2019
Like, can I unhear it, please?
#loveisland Chris: What's your favourite sex position?

Harley: Reverse cowgirl. What's yours?

Chris: The anaconda

Harley: pic.twitter.com/Zg7bYMjS7R

— catra (@karynnnx) July 19, 2019
Wait, what?
I graduated the other day. If you tryna pay off my student loan. Fuckiiiiin I can show you the anaconda sex position https://t.co/dFq0FAlmHJ

— Nubian King 🤴🏾 (@romeosuxve10) July 19, 2019
Educate me, please!
What the fuck is Anaconda sex position!

I've done a lot in my time but what on earth is that?!?#LoveIsland

— Lukey P (@KingLukeyP) July 19, 2019
Well, we know you are scratching your head too just like us, but turns out, it is actually a sex position and it isn't exciting at all. It is violent and also includes punching!
What is Anaconda Sex Position?
You probably wouldn't find the meaning of this sex position in Kamasutra, on the urban dictionary? For sure! The sex position may remind you of the song Anaconda, by Nicki Minaj but it is a lot of going violent while performing XXX rated sex. So as per the Anaconda position, a man withdraws quickly while receiving oral sex or blow job and as per the website-brace yourself-"the man makes a fist with both hands then quickly punches the partner on both sides of the neck at the same time, hence causing a swelling action." Going further with the sex position, "The man then inserts back into the person's mouth, having the feeling of an anaconda around [him] from the swollen neck."
Like, I know it hardly even makes sense, but there more! Other definitions of Urban Dictionary reads, "A rare combination of a sexual position and a state of euphoria caused by a male and a female being deeply connected to each other sexually, mentally and emotionally. The position is a missionary, and the female wraps her legs around the male and they work in unison to establish the deepest penetration possible."
There's yet another definition that is equally weird and it says that you are in an anaconda position, "When you tuck your ballsack in between your legs and let your penis hang out in the water. This can only be done in the water."
What is Anaconda Sex Position [Watch Video]:
Ikr? As weird as it may sound, this actually exists and we would like to believe that Chris was probably joking when he said that he loves the "Anaconda sex position" the best! This comes just after the incident when during a sex chat with Harley, Chris said his nickname was "freckle d**k" – because he has a freckle down there.