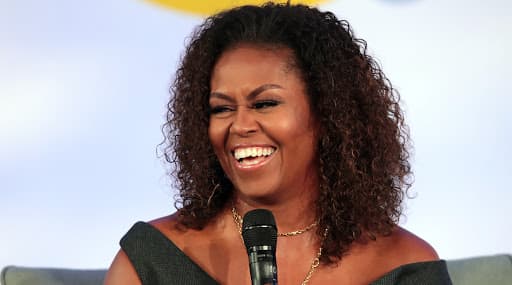 The former First Lady of the United States of America who also happens to be the first African-American FLOTUS -- Michelle LaVaughn Robinson Obama -- is one iconic figure in American politics. She is applauded globally for her actions and statements to protect the human rights of the underprivileged sections. A lawyer by profession, Michelle has advocated for poverty awareness, education, nutrition, physical activity, and healthy eating. Born on January 17, 1964, Michelle is celebrating her 56th birthday on Friday.
Known globally for her well-articulated thoughts to impeccable fashion sense, Michelle is popular for supporting American designers. She is one of those powerful women who takes strong stand on social issues in nonprofit groups and government agencies and it is widely acknowledged and discussed. Married to Barack Obama on October 3, 1992, Michelle has two daughters Malia Ann and Natasha -- also known as Sasha. Barack Obama Birthday Special: 10 Inspiring Quotes of USA's Most Loved African-American Former President.
The first African American First Lady of the United States had completed graduation from Princeton University in sociology and a minor in African-American studies. Later she attended Harvard Law School and earned her degree in 1988. She went to work at the Chicago law firm of Sidley & Austin and met Barack Obama there, following which their journey began.
Not many of us know that Michelle travelled to Africa for a week to focus on youth leadership, education, health and wellness. There she visited the former president of South Africa Nelson Mandela at his home. Her photo appeared thrice on the cover of Vogue magazine and was voted the most admired woman by Americans in 2018. Michelle's memoir "Becoming" even shot to number one position on the Amazon Best Sellers list.
Due to her fame and popularity among the cine-world, she was seen presenting the Academy Award for best picture at the Oscars on February 24, 2013. The former first lady, known for her kindness and open-heartedness, hosted the soon-to-be first lady, Melania Trump, for tea and a tour of the White House residence. On November 13, 2018, Netflix announced that they have signed a multi-year production deal in which the duo will work both in front of and behind the camera.