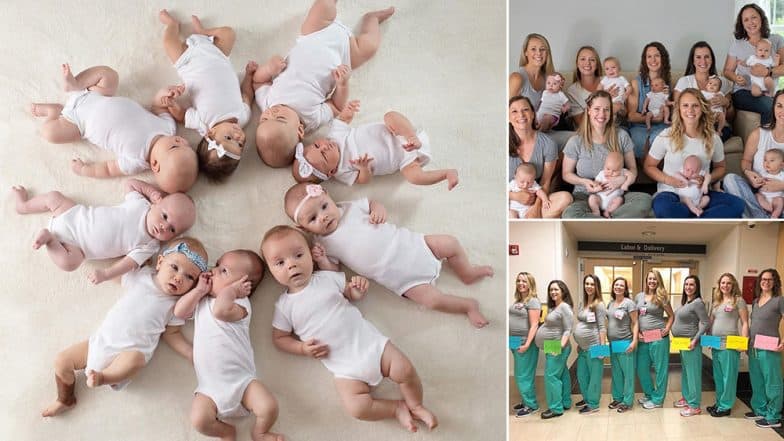 Can you plan your pregnancy to coincide exactly with your best friends? You definitely can, prove nine nurses at the Maine Medical Center in Portland. The nurses of the labour ward went viral when they posed in their pregnancy days, a few months ago. And now all of them have become mothers together. A picture of their newly born babies has been shared on social media and love is showering from everywhere. Just as the mothers received good wishes and blessings on their picture of pregnancy, the photo of their babies is also going viral. 16 Nurses Pregnant! Intensive Care Attendents Arizona Hospital Are All Preggers At the Same Time.
All the expectant mothers had their delivery dates between April and July. Now that all the babies are born and growing up healthy, they had a photoshoot together. While baby pictures are always adorable, this one has a sweeter story behind it of their mothers being coworkers. As all of them were pregnant together, they took good care of each other and grew closer to each other more than being just colleagues. The Maine Medical Center had put up a picture of all these nine expectant mothers flaunting their baby bump with a caption, "How's this for a baby boom? Nine of our nurses (8 of whom are in this photo) are expecting babies between April and July! Congratulations!"
Here is the Pic From Pregnancy That Went Viral:
Now a photo of all of their babies together is winning hearts on the internet once again. The mother and babies are also pictured together.
Watch Pic of Babies of Nine Pregnant Nurses of Maine Medical Center:
View this post on Instagram
Such happy pictures right? We are sure the kids would grow up together and be the best of friends too. Among these babies, the eldest one is three and a half months old, and the youngest one is barely three weeks old. The pictures are flooded with cute comments and congratulatory messages. Talking about these babies, the photographer Carly Murray says, "I hope someday these babies know just how special the work their mama's do is," adding that it was so much fun shooting the group. Well, we can vouch for that and the mothers too would be having their share of fun in raising not just their own children but also helping their best friends out. These nurses are surely giving mother and friendship goals together!