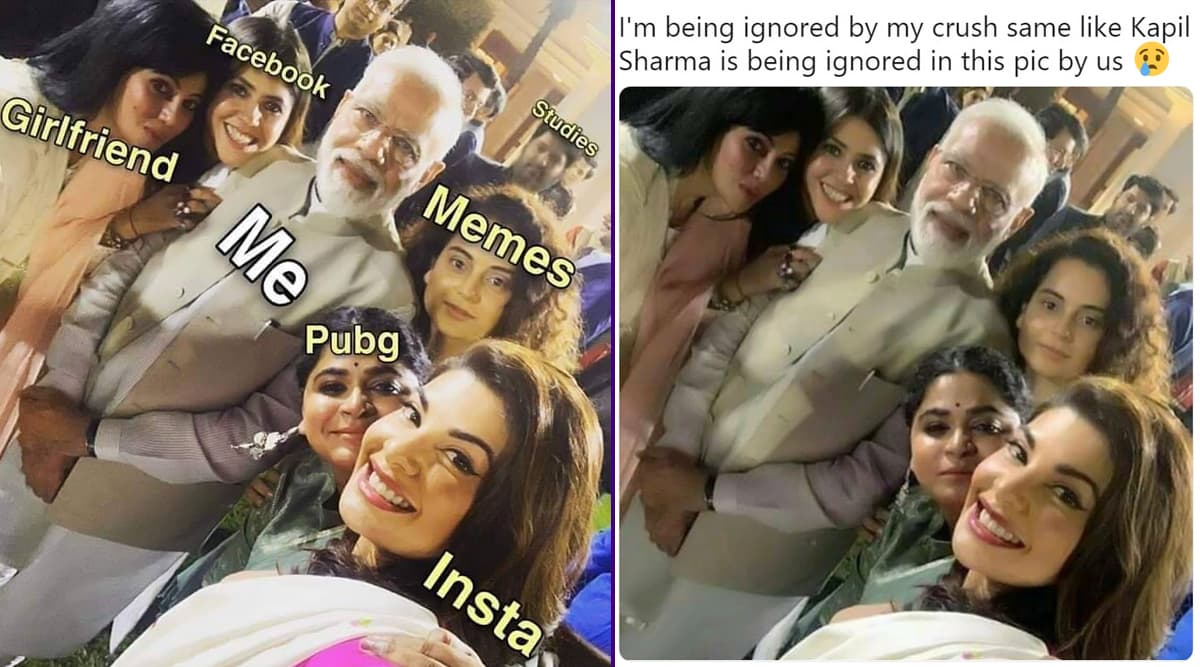 If there is one picture that will you see continuously popping up on your social media feeds it is PM Narendra Modi's selfie with Bollywood actresses Kangana Ranaut, Ashwini Iyer Tiwary, Jacqueline Fernandez and Ekta Kapoor. Bollywood stars interacted with the PM at the 'Change Within' event on October 19. Several pictures from the event where PM Modi posed with Bollywood stars have been shared online. While the pictures have received a mixed bag of reactions from everyone, PM Modi's selfie with actresses is discussed more because of Kapil Sharma's expression in the background. The comedian is not exactly photobombing the PM, but his expressions have amused hawk-eyed netizens who noticed them. Funny memes and reactions have been made on Kapil Sharma. Netizens say they can relate to Kapil's tinge of jealousy, seeing all the actresses posing with the PM. Netizens Troll Shah Rukh Khan and Aamir Khan for Clicking a Selfie With PM Modi at the Change Within Event.
The event Change Within saw eminent stars and filmmakers, including Shah Rukh Khan, Aamir Khan, Kangana Ranaut, Jacqueline Fernandez, Imtiaz Ali, Ekta Kapoor, Anurag Basu, and Boney Kapoor in attendance. The focus was to create films and television shows that popularise Mahatma Gandhi and his way of living. PM Modi himself tweeted a few pictures of him posing with the film stars. Needless to say, when people with an immense fan following are in one frame, the pictures go viral. And it is a social media norm that when anything gets widely popular, it gets its share of funny memes and jokes. Seeing Kapil Sharma at the back of their selfie, had everyone commenting about how they can totally relate to him.
Here's The Selfie of PM Modi With Bollywood Actresses:
Through popular culture, the message of empowering women has travelled far and wide. May this trend continue.

May our Nari Shakti keep shining in the world of films and culture. https://t.co/VaaU8jKlql

— Narendra Modi (@narendramodi) October 20, 2019
While the picture got all likes and praises, netizens noticed another picture where Kapil Sharma looked in the camera. It was posted by Jacqueline Fernandez on her Instagram. And soon it became the centre of several jokes.
College Life
Kapil sharma is me in every college festival. pic.twitter.com/2cZ6vATJq3

— अमन🇮🇳 (@TheAlteria) October 19, 2019
Expectations Vs Reality
Is it true? Kapil pic.twitter.com/vUszU4bqHi

— anuj lamba (@lamba1984anuj) October 20, 2019
He Reminds People of Their Crush
I'm being ignored by my crush same like Kapil Sharma is being ignored in this pic by us 😢 pic.twitter.com/5MNO8k5dV2

— Its_dhillon_10 (@its_dhillon_10) October 20, 2019
Apt!
@narendramodi @KapilSharmaK9 hahaha that's you !! @Asli_Jacqueline @ektaravikapoor pic.twitter.com/F4Pj3VWWMW

— Antriksh Good Samaritan (@iam_antriksh) October 20, 2019
Hahah
Relationship status - Standing behind like Kapil Sharma & watching hot girls getting crazy about college topper...🙄🙄🙄😭😭😭 pic.twitter.com/AfeLNVP0cW

— Arjun.. (@iamZoomie) October 19, 2019
Kapil's Got His Own Phrase too
Behind every successful man, there's Kapil Sharma 😅 pic.twitter.com/I5Y8RBLAgQ

— Why So Silly® (@silly_why) October 19, 2019
Always?
View this post on Instagram
Everyone is relating to Kapil Sharma's "feeling left out" expressions from this photo. Meanwhile, Kapil did post a picture later where he is seen posing with the Indian Prime Minister. But him standing behind in the selfie has got more limelight thanks to the netizens love for making memes and finding humour in such situations.