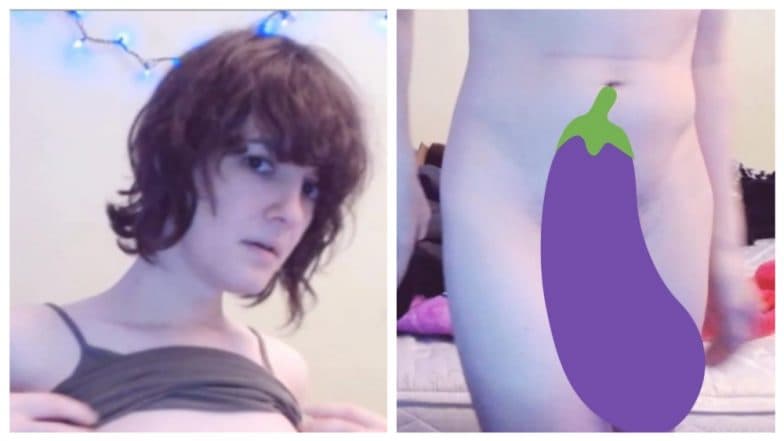 Transgender people have a range of experiences while transitioning. Some may transit socially, legally and medically, while others may transit only socially, and some may not do any of these. But accepting yourself the way you are is not always easy. Pornstar Rookie Stray a transwoman has been winning hearts all over the internet with her unique manner of self acceptance. Her pictures, where she bravely shows off her huge penis, are now going viral, inspiring many transgender people across the internet to embrace their body, the way it is. She shared pictures of her penis on Twitter, making people gasp at its sheer size. Before she decided to share her nude pictures on Twitter, Rookie began a thread, where one of the tweets read, "*big announcement" for her NSFW account. Her "girldick" is now the talk of Twitter now. #TransLooksLikeThis Goes Viral on Twitter With Transgender People Sharing Their Experiences for Not Being 'Trans Enough'. 
Rookie's pinned tweet showed her in the nude, with several photos of her absolutely enormous "girldick". But with her bold appearance , the number of followers on her Twitter account has also increased, so much that she became the third top-earning trans star on ManyVids (Canadian adult video hosting company) for March.
Rookie's Bold Revelation
hi! i'm rookie !!

i'm a cute girl with a huge dick and u should buy my porn!! n_n

ManyVids: https://t.co/t9KQJykc3U

AmateurPorn: https://t.co/eDbHo0UGJu pic.twitter.com/mZo4f19rnc

— Rookie Stray (@RookieStray) March 12, 2019
Twitter Left Speechless
ROOK HOLY SHIT

— Carta Monir (@CartaMonir) March 13, 2019
Aka ROOK IS PACKING MAJOR DONG

— 🝕 Kite Angel 🝕 (@pissmancy) March 13, 2019
For one brief moment, we're all united around a single stunning girlcock

— Kathryn 🍀 Salamander #FreeChelsea (@TransSalamander) March 13, 2019
This is the most stunning revelation of 2019, and it inspired a lot of transgender people. Rookie knows how trans girls' bodies come in various sizes, shapes and in this case, lengths. This does not take away from her womanhood. While talking about her overnight fame, Rookie was quoted in The Daily Dot as saying, "I was really happy it blew up but I've never been at the center of that much attention before, I was definitely feeling a little panicky. My roommate had to give me one of her anxiety meds to help calm me down, I was pretty twitchy."
While she is still processing her positive responses online, it is indeed commendable to come out that courageous. It is not easy for trans people to be open about their bodies. Rookie's confidence and openness is encouraging many others like her to explore and cherish their beautiful bodies, publicly or privately.