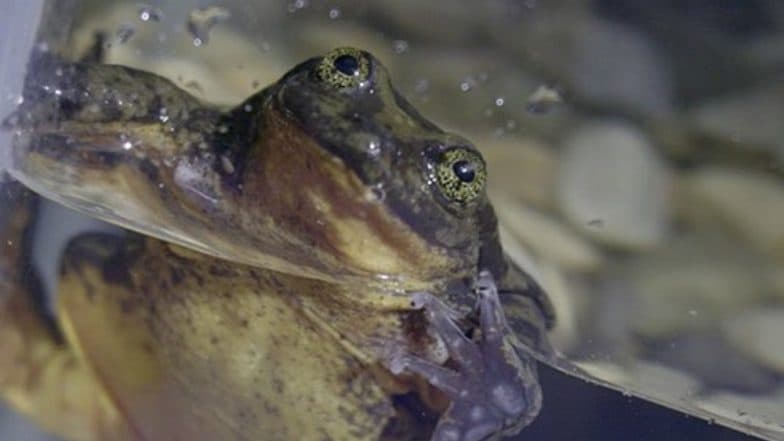 After being lonely for over a decade, Romeo, a frog would have finally found its partner. The Sehuencas water frog which lives in Cochabamba Natural History Museum in Bolivia has been the last amphibian of its kind. Infact, people at the museum create a match profile for Romeo making him famous. The big-eyed amphibian will meet his Juliet (as named by scientists) on Valentine's Day in an effort to save the depleting species.
Bolivia's Alcide d'Orbigny Natural History Museum partnered with Global Wildlife Conservation to raise money to look for a mate for Romeo. Last month, zoologist Teresa Camacho conducted a frog-search expedition through Bolivia's cloud forest. She and her team had to look into creeks and hollows, get their hands dirty for a female frog. While they found one belonging to the species, it was male. Teresa did not lose hope and continued her search expedition. Finally, they found four more frogs, two males and two females. Jonathan the tortoise, World's Oldest Living Land Animal Who is Blind Can't Have Cataract Surgery as it is Risky.
That's Romeo for you!
You all know our beloved lonely, @RomeoTheFrog, well we have fantastic news- he's lonely no more! We have found Juliet. She's not ready for her blind date yet, but she will be soon. Stay tuned for more as the story of our two love-frogs unfolds! https://t.co/3L1AQGW1Ni pic.twitter.com/Y2hAUFhMj7

— Global Wildlife Conservation (@Global_Wildlife) January 15, 2019
Meet Juliet, the female frog, match found for Romeo:
Drum roll.....here she is! My sweet Juliet. #exceededexpectations #luckyfrog #Match4Romeo #Julietthefrog pic.twitter.com/sStJ70x7d4

— Romeo the World's Loneliest Frog (no longer!) (@romeothefrog) January 15, 2019
Teresa says climate change and contamination has resulted in the Sehuencas water frog close to extinction. As one among two frogs were too young, the other was chosen for Romeo. And unlike Romeo, Juliet is full of energy and even tried to escape the tank once. Scientists are not sure if the duo will get together, but Alcide d'Orbigny Museum Director Ricardo Céspedes tells CNN, "We're hoping opposites attract." And if it doesn't work, scientists can try in vitro fertilization. Romeo has his own Twitter account where he updates about his life affairs. And he has also already started writing about Juliet, we hope the duo make a great pair!