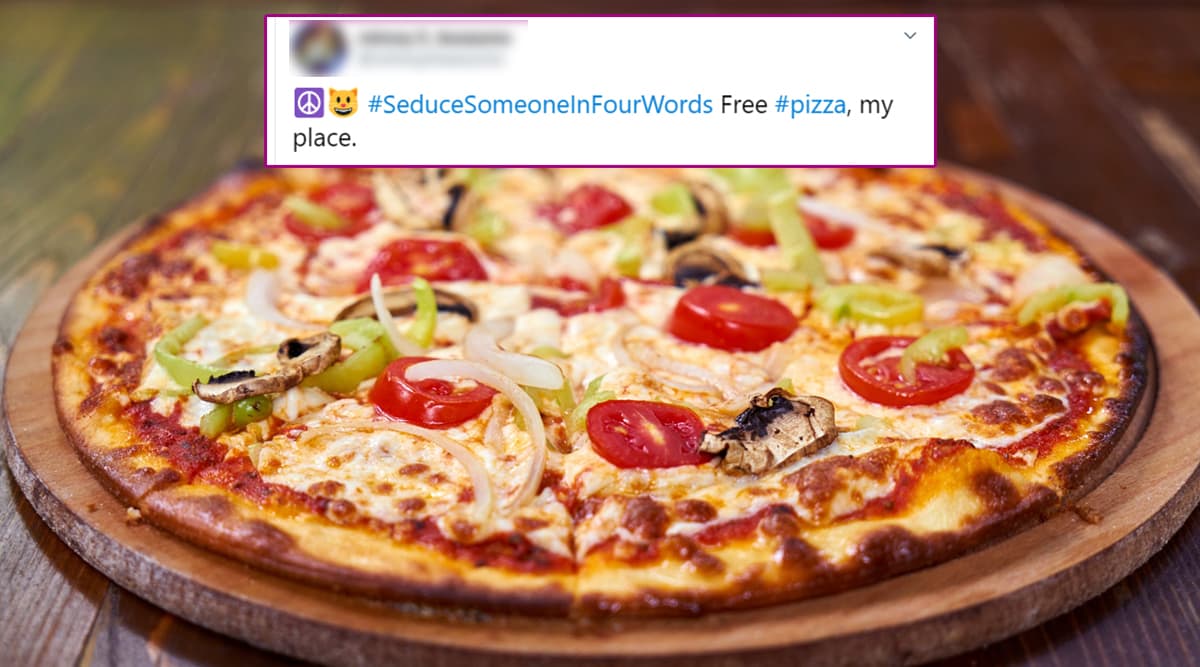 Whispering almost any naughty lines can add up all the spices you and your partner probably needed. Gone are the days when people wrote long letters or tried to frame poetry to win hearts of their crush or significant others. In today's technological world, everything is bounded to limited characters. Even if it is to seduce your partner. Turns out, all you need are four words that you know would turn your lover on! This is when 'Seduce Someone in Four Words' come that is currently going viral on Twitter, accompanied with the trending hashtag. But it surely has a twist! Users on the micro-blogging site have got together to master the art of seduction by keeping it short and simple, yet relatable. Meaning, you know the four magical words that can seduce your partner. These #SeduceSomeoneInFourWords memes could not get any funnier! Man Has a Drawer Full of 'Women's Essentials', but Internet Isn't Happy Finding Dildo and Pregnancy Test Kits Kept in It. 
In early December, we saw #SeduceMeIn4Words trending on Twitter with people sharing the best possible combination of four words. With similar connotation, but aiming more hilarious, netizens are sharing the four words that would do the trick and seal the deal. You cannot miss this latest internet fad taking over social media. Type 'Seduce Me' Autocomplete Trend Takes On Twitter, Netizens Come Up With Funny Memes and Strange Replies. 
Here Are the #SeduceSomeoneInFourWords Memes:
☮️😺 #SeduceSomeoneInFourWords Free #pizza, my place. pic.twitter.com/2rvq5klqff

— Johnny E. Awesome (@JohnnyEAwesome) January 16, 2020
Very Important!
"I understand personal space." #SeduceSomeoneInFourWords pic.twitter.com/2BqfjOivIA

— Goobijen (@Goobijen) January 16, 2020
Mic Dropped!
I got some memes pic.twitter.com/ivWB1t7GSL

— 🦉🍂🦔 (@olivtheowl) January 16, 2020
Always the Magical Words For Introverts:
Someone : "maybe hangout at home?"

Me, as an introvert:#SeduceSomeoneInFourWords pic.twitter.com/bQQnkgdYhL

— kєí number 24 spoilers (@lovingritsuka) January 16, 2020
Aside from only being funny, we also have some sensuous talk going on. Only if you can take the hint, you know these four words can turn on the magic.
Take the Hint!
Went backpacking in Mount Tibidabo 🥵🥵 #SeduceSomeoneInFourWords pic.twitter.com/hHxr6HA18f

— Yaa Trudy is RARE 🇬🇭 (@InMyChoruss) January 16, 2020
Why Not?
Wanna share these strawberries? #SeduceSomeoneInFourWords pic.twitter.com/Eew2lqySU6

— 𝔖𝔢𝔩𝔦𝔫𝔞 𝔖𝔞𝔳𝔞𝔤𝔢 🌹 (@SelinaSuede) January 16, 2020
On Point!
No words needed, Actions pic.twitter.com/j7CVmW5mxt

— Becca ❤🤘 (@Good_Ole_Bebs) January 16, 2020
Aren't they fun? As a matter of fact, they have got better from the previous hashtag that was making rounds on the internet. #SeduceSomeoneInFourWords will surely take you to enjoy some joy ride to master the art of seduction! Do you have words of your own to add to this latest list? Join the Twitterverse and enjoy the viral trend.