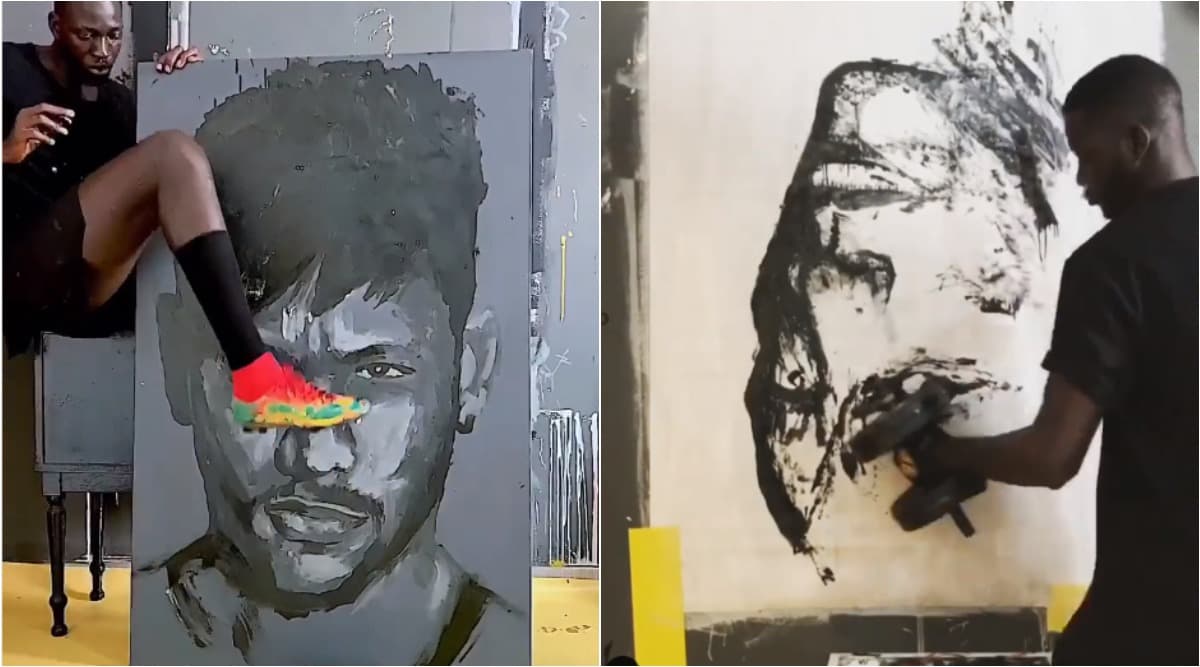 Senegalese artist Boubou has all abilities to blow off your minds. He can draw portraits of people in ways you have not thought before. The artist from Dakar is incredibly talented and the videos of his painting are the proof. From keeping the canvas upside down to painting blindfolded, Boubou amuses internet users with every new painting video. Videos of Boubou Niang better known under the nickname 'Boubou design' are quite popular on social media platforms. Every new post of him painting gets shared widely with the comments section being filled with praises. Japanese Artist Yoshitomo Nara's Cartoon Girl Sold For 25 Million at Sotheby's Hong Kong Auction!
Videos show him paint portraits of people using weightlifting, DJ player, duster, flowers, basketball net, football, boxing gloves and even a toilet commode. You name it and he has used the object to make create portraits. Boubou Niang gained popularity after painting American actor The Rock with a dumbbell. He drew the star so well that the internet users couldn't believe it. The video garnered him a lot of fame as it received more than 12 million views. He has over one million Instagram followers and more than 20,600 followers on Twitter. Mumbai-Based Artist Paints Slums in Pune to Change Mindset of People; See Pics.
Watch His Videos Below:
View this post on Instagram
Has Anyone Ever Painted With the Tyre of a Bike?
View this post on Instagram
This Man is Impossible!
View this post on Instagram
What Did I Just See?
View this post on Instagram
Don't Have Paintbrush? Meet This Painter Then!
View this post on Instagram
Who Taught Him This?
View this post on Instagram
Boubou often paints celebrities using things which are related to them in some way or the other. He once painted Beyoncé using a shoe; paid tributes to Eritrean-born rapper Nipsey Hussle by creating his portrait with a cap.