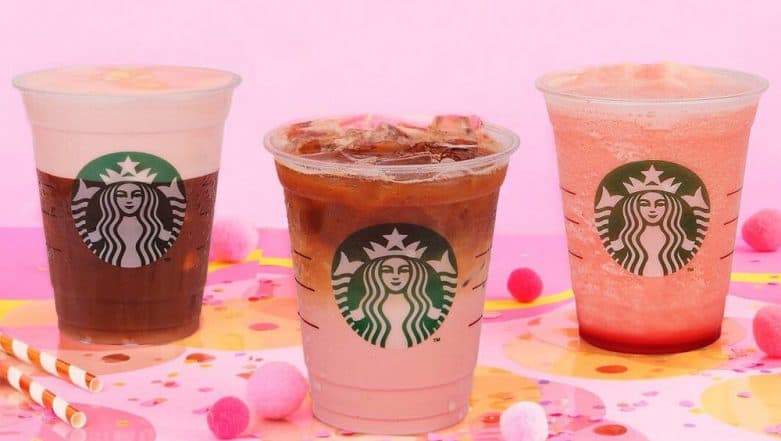 Starbucks Indonesia has found a rather sweet strategy to welcome the Breast Cancer Awareness Month. As part of their #PINKVOICE campaign, Starbucks Indonesia has released three limited-edition flavoured drinks, all pink and iced, to commemorate the Breast Cancer Awareness Month. The three drinks that are soon going to take over Instagram feeds are called Iced Pink Macchiato, the Strawberry Cold Foam Iced Espresso and the Fantasia Yogurt Frappuccino. This is the second year for Starbucks' #PINKVOICE campaign that urges people to chat and talk more about breast cancer, causes and preventive methods.'Sardarbuksh' to Become 'Sardarji-Bakhsh' After Starbucks Sues the Delhi Based Coffee Chain!
Here's What Those Drinks Look Like:
The same has been announced on their website as well where they have divulged about the contents of all the newly added drinks. Starbucks Indonesia has found a rather sweet strategy to welcome the Breast Cancer Awareness Month. The Iced Pink macchiato has been described as a mix of "fresh milk with vanilla and strawberry flavoured syrup marked with espresso"; the Strawberry Cold Foam Iced Espresso is basically a delicious combination of "strawberry cold foam and espresso"; and the Fantasia Yoghurt Frappuccino is a "blend of ice, milk, strawberry and vanilla flavoured syrup topped with raspberry whipped cream." Sounds tasty? Well, in case you haven't cracked the catch yet, these drinks are only available in Indonesian Starbucks outlets. Can Men Get Breast Cancer? Risks, Symptoms and Treatment -What Every Man Should Know.
The theme for this year's #PINKVOICE campaign is Chat That Matters: Talk About It, Share It and Save More. Basically, it is their way of promoting the necessity of talking about breast cancer, its causes, treatments and how it can be prevented. On their website, they further added, "We cheer and invite everyone to take a preventative approach on breast cancer by talking more about it in their daily lives." The money raked in by these three drinks will be going directly to Lovepink Indonesia, a non-profit for breast cancer survivors, as reported by Insider. How To Check Your Breasts For Lumps.
Starbucks will also be holding various events in Jakarta, Bandung, Surabaya, Bali and Yogyakarta through the month as they want to raise awareness about breast cancer and address the facts and myths to a wider audience. Starbucks & Other Companies Must Have Caution Signs says California Judge.
While we're on the subject of Breast Cancer Awareness Month, apart from Starbucks, there is a plethora of companies from the fashion, beauty and lifestyle arena, who are taking up initiatives to address the growing concerns of breast cancer. H&M has also released a collection of three type of bras for the cancer survivors. 100 per cent of the proceeds is dedicated to cancer research. Beauty brands like Beautyblender and La Mer are also donating a big percentage of their proceeds from their limited-edition pink products to cancer research foundations.