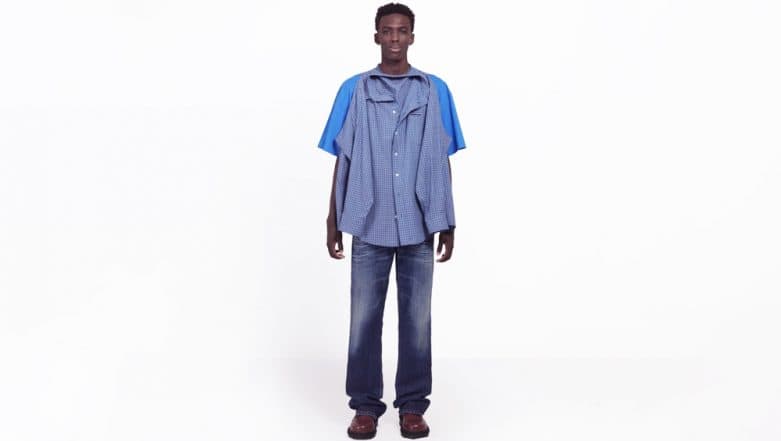 Spanish brand Balenciaga is known for going to the edge when it comes to fashion. However, its latest invention did not go down well with social media users. The luxury brand was criticised strongly for a T-Shirt Shirt which is a part of their Fall 18 Collection. Just like the name suggests the new clothing looks bizarre too. Fashion police neither seemed impressed by the garment that looks like a Shirt on a T-Shirt. And the newest T-Shirt or Shirt or both costs $ 1,290 (approximately Rs 87,365).
Most people on the internet could not even believe that clothing actually exists. Some thought it was a joke and were surprised to find out it actually exists. Incase you like it, you can pre-order it on their website. Balenciaga which is known for their costs, had priced a designer bag at $3,000 (more thant Rs 2 lakh) in 2017. People also took potshots at the model posing in the garment saying he was equally confused.
Here is Balenciaga's T-Shirt Shirt which is a part of their Fall 18 Collection:
When the dresscode says smart casual so you turn up with your shirt sewn onto your T-shirt #Balenciaga pic.twitter.com/Gu0uSgTsIZ

— S a M (@sammwmc) May 28, 2018
No bizarre reasons could find a legit reason for this fashion idea:
When yer da gets divorced and can't figure out laundry

Not even joking

Over £1000 for this tee shirt that got stuck to a shirt in the tumble drier #balenciaga pic.twitter.com/yt1WEFtEDl

— Janey Godley (@JaneyGodley) May 28, 2018
I just do not know what to say @BALENCIAGA, please explain to me what a t-shirt shirt is, how did you come up with this, and which demographic were you aiming at? pic.twitter.com/jZjZWYO70c

— Shruti Shekar (@shruti_shekar) May 28, 2018
The website describes the product as, "Striped short sleeves and long sleeves shirts with two wearing options." Last year Balenciaga was made fun of when models strutted the runway in Crocs. The shoes with several inches of rubber platform and its tops decorated with pin embellishments had become perfect joke material on Twitter. The latest collection is set to hit stores on June 19. Would you go ahead and try the clothing? Do let us know in the comment section below.