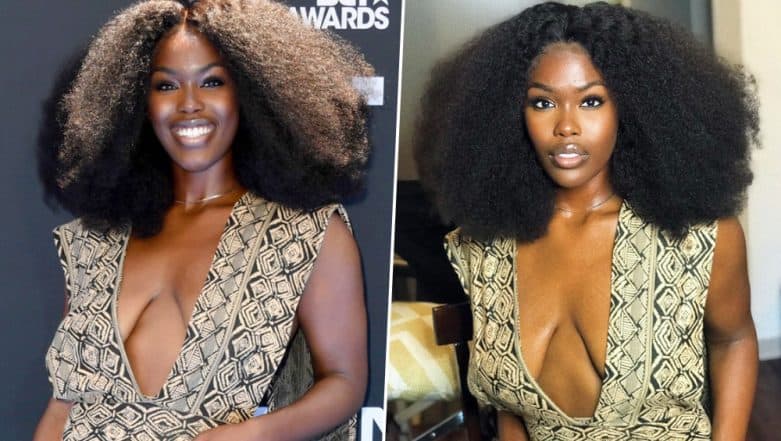 Tanerélle was out here at the BET, living her best life when some people decided to shame her for the natural state of her breasts. Singer Tanerélle has come out with a statement on Twitter regarding the criticism she's facing over the dress she chose to wear to the BET awards. People think she should get a breast lift and she shut down the haters in the best way possible. Woman Takes 'Cleavage Selfie' to Hit Back at Eve Teasers, Twitterati Offers Support With #ILoveMyCleavage (View Viral Pics).
The singer attended the BET awards looking stunning as she rocked a low cut dress with block print. The dress was designed by Batani Khalfani and displayed her real beauty with no additional underwire, keeping the dress looking fresh and effortless. Some people had a problem with breasts being the way they naturally are, saggy! People criticised her for wearing the bold outfit and some asked her to get a breast lift before attempting a look like this.
Tanerélle's Dress That Offended People:
 

 

 

 

View this post on Instagram

 

 

 

 
Tanerélle was quick to shut down the haters by showing them they're just wasting their time by giving their opinion even when it's not asked for. She empowered us by reminding us we don't need to get a certain body type to wear whatever we please. Our body does not need changes for us to look great in any dress we like. And honestly, this is the support and confidence we need. Her tweet is one of the best tweets we've seen. Rihanna Impresses Fans With Her Curvy Mannequins At The Fenty Pop-Up Store!
Her Clap Back to Haters on Her Twitter Account:
To all the negative comments about today's look, I don't need to lift my breast to wear a fucking dress. I'm a woman and my natural tits hang and I fucking love it and I have no intention of changing it to suit your gaze. I'm out here living my dreams focus on better things. pic.twitter.com/dGNFnKndro

— Tanerélle (@tanerelle) June 24, 2019
Many women came to support Tanerélle over this incident. Twitter users were furious over people thinking entitled enough to tell her to get a breast lift. Women praised her for the brave move and vowed to quit wearing bras as they're uncomfortable. Some women also questioned all the men if they've ever seen naked breasts for them to think natural breasts sit up straight? Some men had to reply to her tweet and give her their "personal preferences" on how they like their women. After all this, some men still think women should dress to please men.