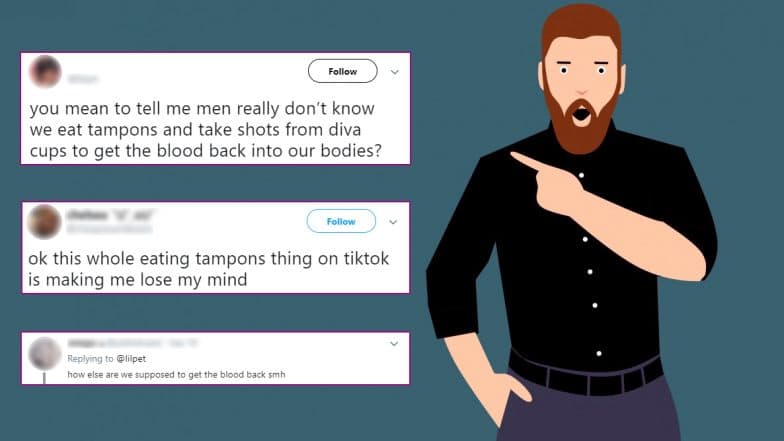 Viral videos online may have some gross content to share that we might not need to know. Well, it is precisely that moment on TikTok. People are freaking out after teen girls are claiming that they eat tampons to reabsorb the blood they just lost. It doesn't really matter if at all you believe to what is a hoax, TikTok app users are convinced that girls are doing so. Many clips are surfacing on the video-sharing app with girls revealing details on how they are eating their used tampons instead of throwing them away. And surprisingly, boys are falling prey for the hoax as they share their puzzled reactions on TikTok.  How to Trick Your Toddler into Eating Fruits and Vegetables: TikTok Mom's Hilarious Hacks Are What Every Parent Needs!
It all started by a TikTok user, Caroline Majcher from Toronto. In the viral video, she can be heard saying, "Guys are so clueless. So today I was talking about periods with my guy friends and just explaining some stuff to them. And they had no idea that girls eat their tampon after they're done with it to reabsorb all the blood that they just lost." Macher told BuzzFeed News that she was talking to her sister in making potential videos which is when the idea came up. TikTok Users Are Glueing Their Upper Lips to Make Them Look Fuller, Viral Videos Take Over the Internet. 
Watch the Viral Video:
It could have ended with her video, but it did not! Other teenagers kept the hoax. Some girls are sharing the reactions of their boyfriends showing them the video, while others have convinced that process is perfectly healthy and good for their health. Why would anyone say something like that?
Do Not Miss His Reaction:
LOL You Didn't Know That!
you mean to tell me men really don't know we eat tampons and take shots from diva cups to get the blood back into our bodies? dumbasses

— ً (@IiIpet) September 19, 2019
Why Would You Do That:
People Are Freaking Out:
ok this whole eating tampons thing on tiktok is making me lose my mind

at first, it was a rly funny joke on the guys but then everyone started to sound serious and iM SCARED

i'm gonna sound stupid for even asking this buT DO U AMERICANS RLY EAT UR MF TAMPONS?????

— chelsea ¯\(°_o)/¯ (@mangoesandbeans) September 18, 2019
The video was created only to get enough reactions, and the motive is well fulfilled. With so many reactions surfacing online, it is natural for netizens to get freaked out. To sum up, it is only a hoax, and girls do not eat their used tampons. Menstruation is the regular discharge of blood from the inner lining of the uterus through the vagina. And when it comes to "reabsorb" the bleeding, well that happens naturally.