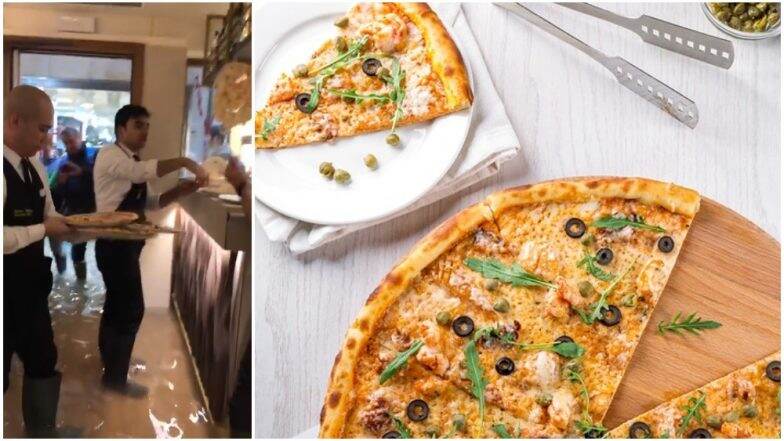 Venice witnessed the highest floods in a decade following heavy rains that lashed the city this last week. Fierce winds caused water logging in the canal city even killing two people. While the natural disaster continued to wreak havoc in the city, a pizzeria popular for their food did not shut down. They decided to bear the damage along with the people of Venice.
The pizzeria had ankle deep water but that did not stop them from serving hungry customers. The video of waiters wading in water with plates of food in their hand has gone viral on social media. The servers wore goloshes to keep their feet safe from the floodwater.  The restaurant has earned a lot of praises on social media for serving their customer in a situation as harsh as this. Deadly Storms Lash Italy Leaving Venice Afloat
Watch the video here:
The video shows some more shops in the same lane with floodwater open for customers. Tourists were barred from entering the St. Mark's Square which was flooded was at 156 centimetres. Wooden planks were arranged to help tourists across the flooded area. Many families evacuated from the areas carrying their children on shoulders on the streets.
The flood caused a lot of devastation and most of northern Italy was on alert due to the storms. PTI quoted Luca Zaia, head of the Veneto region as saying, The ground is already saturated with water, the rivers are full and due to sirocco (a strong hot wind from Northern Africa), the sea is not absorbing (the waters)."