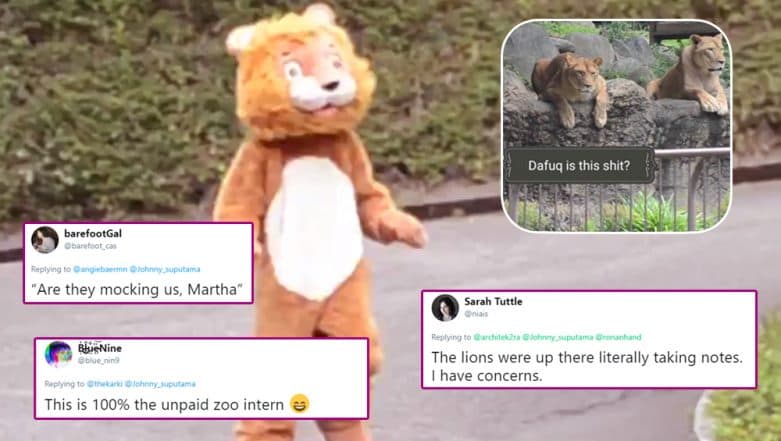 Here we are to brighten up your weekend with a video going viral on the internet, making Twitter trip on laughter! This video of a man clad in a furry lion suit as a part of an on-point "Lion Escape Training" is making people laugh their lungs out! The video clip from Tobe Zoo in Ehima where the Zoo authority can be seen working together on an elaborate escaped-lion drill, in no time became fodder for Twitter to create humour. In the video of the drill you can see the crew using air guns, net and men in cars trying to capture yet another man in a furry lion-costume running around(because they can obviously not have a real lion for the drill), however at the end, you can see the video capture the reactions of real lions, for whom this drill is actually taking place. This shot gives a complete twist to the serious video.
Twitter user cannot help but jump into conclusions about what the real lions must be thinking. Many even expressed worry jokingly that the real lions must be taking notes about what they should be doing when they plan to escape the zoo.
Take a look at the video shared by a Twitter user who goes by the handle name Spoon & Tamago, @Johnny_suputama:
Tobe Zoo in Aichi conducted a lion escape drill today.

Note the expression on the actual lions faces.

— Spoon & Tamago (@Johnny_suputama) June 22, 2019
He initially mentioned the zoo's name as Tobe Zoo in Aichi which he later changed to Tobe Zoo in Ehima. While the video itself is somewhat funny, it is the reactions received by the video that is winning the internet.
Here are the funniest reactions:
The lions in the back: https://t.co/3QlHftgBao pic.twitter.com/4c4F6AW9gA

— SnowflakeSmasher86 (@mLacrimosa) June 22, 2019
LOL
Actual lions:"Yeah, that will work."

— Ron Greenberg (@rsgnyc) June 22, 2019
Da...faq
Actual lions thoughts: pic.twitter.com/3temkuVnz3

— Bombastic Bag Man (@bag_bombastic) June 22, 2019
What the...
"Are they mocking us, Martha"

— barefootGal (@barefoot_cas) June 22, 2019
Alright then
— VERO (@CruzakaVero) June 22, 2019
Like, why even?
The lions look straight-up offended.

— Shane Champagne (@SeaSaltArt) June 22, 2019
Excuse me?
Those lions were like pic.twitter.com/0VlcPQHRmD

— Rowan Crook (@RoowanCrook) June 22, 2019
Don't even get me started!
— Perkinskiii (@adrunkteacher) June 22, 2019
Hell, yeah!
This is 100% the unpaid zoo intern 😄

— B̵̢̢̹̭̳̦̬͐͐l̴̡͔͎̮̝̂̾u̷̲͋̓͒̀͆̈́͂̓̕e̴̤̙̩̳̭̙̮̍͊̒̅͝Nine (@blue_nin9) June 22, 2019
Should I be scared?
The lions were up there literally taking notes. I have concerns.

— Sarah Tuttle (@niais) June 22, 2019
Legitimate
— Professor* Harbinger (@profharbinger) June 22, 2019
Can't stop laughing
Lion 1: That's not half bad.

Lion 2: No. It's all bad!

(Lions laugh)

— Raelene Lowe (@loweliferae) June 22, 2019
ROFLing
Lion leader: "So we jump at the people holding the net, trap them under their own net, and keep going. Any questions?"

— Cameron Bennett (@Cameroneous) June 22, 2019
Dayum
Lion 1: you seeing this shit?

Lion 2: yeah.

— Caimen64 35 to🎂🏳️‍🌈 (@sodalite64) June 22, 2019
For real
The lions are like pic.twitter.com/qKDJFCa3gl

— never claimed i was funny (@veronicamariez2) June 22, 2019
THIS
— Kris Roley (@krisroley) June 22, 2019
Such viral videos sometimes become food for Twitter to express their humorous side and we ain't complaining! A Twitter user who has experience working in a zoo at the end clarified that such drills actually happen and they are hilarious. He said, "I worked in a zoo and can confirm they do these drills like this 😂 one time they did a rhino drill and very slowly drove a golf cart around with a rhino label on it LMAO."