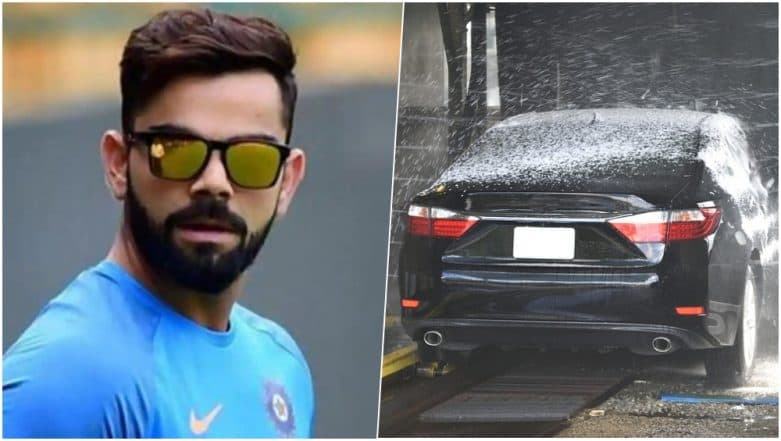 Virat Kohli is currently busy in England for the ongoing ICC Cricket World Cup 2019. But while he prepares for the tournament, he had to face some trouble recently with the Gurugram municipal corporation. The Indian skipper who resides in DLF Phase 1 of Gururgram was fined Rs 500 for wasting drinking water while washing his cars. As per reports his driver and staff were washing his cars in the early hours of the day and used drinking water! But what's more surprising is how a small amount lets go off committing no less than a crime (in today's time) of wasting water.  Virat Kohli Shows-Off His Killer Dancing Moves Before Leaving for ICC Cricket World Cup 2019 in England, Watch Video.
The municipal corporation officers arrived at the scene when they caught his domestic help washing his cars and wasting water. They have fined him for Rs 500. As per some reports, complaints about Kohli's residence wasting drinking water were even made in the past. According to the neighbours, about 1000 litres of drinking water was wasted by the staff in washing his 6 cars, which also include his 2 SUVs. Along with Kohli, 10 other houses in the area were also fined for wastage of water. Virat Kohli Becomes the Fastest Captain from Asia to Reach 50 Victories After India Beat South Africa by Six Wickets in CWC 2019.
Watch Video of Kohli's Residence Using Drinking Water to Wash Cars:
According to Yashpal Yadav, Commissioner, Gurugram's Municipal Corporation as informed to ABP News, due to the rising summer heat, there is a high demand for drinking water in all areas of the city. The municipal corporation was checking upon who is wasting drinking water and they have even started a campaign urging people to not waste water. When the municipal squad checked the Kohli residential area, they found a lot of people were using drinking water to wash their cars. So a fine of Rs 500 was imposed upon them.
It is really appalling that in a country where hovers a cloud of drought instead of rains, the privileged are misusing facilities easily available to them. How is there not a single thought for those who struggle daily and walk kilometres to fetch one bucket of water, which too could be unfit for drinking? Is awareness not enough, especially in these ultra-modern societies or can we call it the privilege of negligence? Fining Rs 500 does not matter to those own high-end vehicles. It is a thing of utter shame that litres of pure water which is luxury for some becomes a thing of disposal for the affluent.