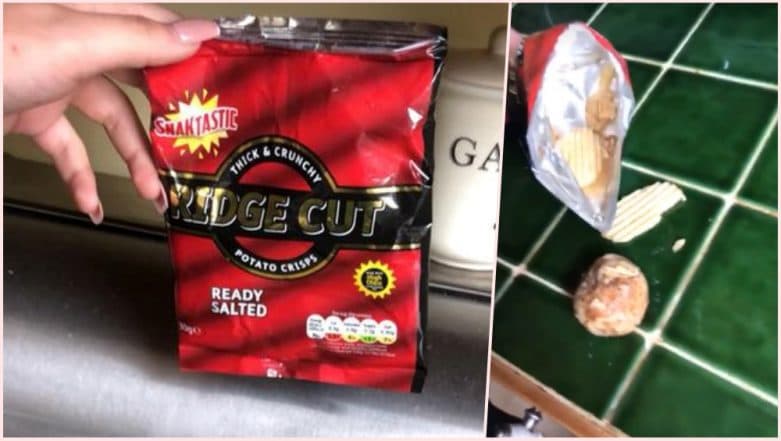 If there is something inside your packet of chips waiting for you to open so that it can surprise you, what mostly it could be? You would either expect a toy or a sticker or maybe some extra salty snack instead of air. But a woman from the United Kingdom got more than she bargained for! In a shocking moment, when Nadia Snow, opened her packed of salted flavoured ridge cut chips, she noticed something was weighing down the packet. Puzzled by the apparent object to be inside, she filmed a video to find out what was inside. To her amazement, there was one whole potato which rolled out onto her kitchen counter. The pictures and videos on her Facebook account are proof! Fries vs Chips Has Divided The Internet, Look What is The Difference Between These Potato Snacks. 
The 26-year-old bought six packs of the ready salted crisps from a nearby supermarket, Lidl. Nadia told LadBible; "I just went and grabbed a pack and it felt really heavy so I asked my friend to open them while I recorded it to see what was in there and that's what it was. We just thought it was hilarious to be honest - couldn't understand how it had managed to happen though."
Whole Potato in a Packet of Ridge Cut Chips.
Coming across the hilarious situation, the Lidl spokesman apologised in a pun-filled statement to Metro; "This is a real hot potato of an issue. Whilst a whole potato crisp might be a-peeling to some, we would like to take the opportunity to chip in and apologise to the customer for any distress caused." Such instances often happen with buyers across the world. Sometimes it is plastics or similar examples of potatoes inside the packet or most common would be gas; which experts say to keep them fresh and crisp to eat.