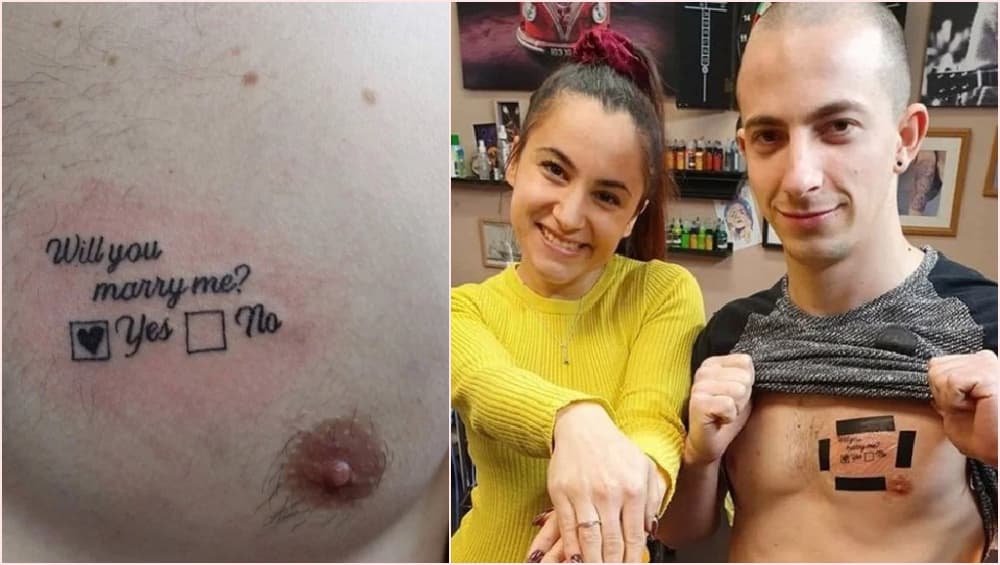 It is a season of unique proposals, or what? Just recently, a South African couple's engagement at KFC outlet has made Twitterati crazy. So much, that the big heart netizens started to find out the couple, to shower them with a blissful wedding ceremony. Finances on social media users! Now, another exclusive proposal of a man in the United Kingdom has impressed the internet users. He made a tattoo on his chest that reads, "Will you marry me?" Not only that, the romantic boyfriend even asked his tattoo artist to make two 'yes' and 'no' boxes ready for her response. Romance has set some other level now. The picture of his "Will you marry me?" chest tattoo has gone viral with netizens sharing all their love and blessings to the newly engaged. South African Couple Got Engaged at KFC! Twitterati Unites to Find Them and Pay for Their Wedding. 
The future groom and bride are not identified, but they are reportedly from Gloucester. He inked those wonderful words at a famous tattoo parlour, called Gods of Ink. Once his love provided the answer, he was hoping form a heart shape was added to the corrected box. The romantic proposal happened at the tattoo parlour itself. They had shared the unusual engagement story on their Facebook page with the happy couple's face. World's Most Unique Wedding Proposal? Japanese Man Travels 6 Months to Spell 'Marry Me' on Google Earth, Watch Viral Video. 
Sharing the image on Facebook, the parlour wrote, "What an amazing way to propose. His girlfriend who was with him and had no idea what he was having done was shocked by his proposal and she happily ticked the Yes box. Congratulations to you both." In the picture, the future groom can be seen posing with his T-Shirt, pulled up to show her new tattoo with his would-be bride, who is showing off her engagement ring on her right hand. The reason, she was wearing the ring on the opposite finger was because they are originally from Bulgaria and they wear the engagement ring on the right hand.
It is a season of romance. Many such unique proposals melt the hearts of Twitterati as and when photos and videos of the beautiful moments go viral. We are so thankful to social media users for sharing all such wonderful love stories online and keeping us captivated for long. We wish the happy couple, a great love life ahead!